By Jessica Powers, Gail Hurston
Every student looks for their niche in college, and often a club exists to unite them with other students who have the same interest. Lodz Pierre, a Haitian native, recognized the minority she represented at the University of Kentucky and decided to create a student organization to unite others with similar heritage and an interest in Caribbean culture by forming the Caribbean Student Association (CASA).
"UK's student population is increasing in diversity, but most of the students are not of Caribbean ancestry. The Caribbean student population at UK is probably one of the most underrepresented minorities on campus," said Pierre, president of CASA. "But despite its small percentage, I believed that the number was great enough to create a club in order to celebrate our heritage and share it with others."
Because every student organization requires an adviser, Pierre began searching for a good match and found one in the College of Arts & Sciences.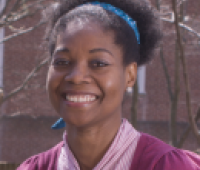 Jacqueline Couti, an assistant professor of French and Italian Studies in the Department of Modern & Classical Languages, Literatures and Cultures, is a firm advocate of spreading knowledge about culture to her students and serves as the adviser for the group. This semester she is teaching two courses related to Caribbean culture. Nègre debout is a course that deals with the representation of masculinity in French Caribbean literature. Damned Sex in Folktales is a seminar about folktales from the Diaspora in the Americas (Caribbean and U.S.) and is open to undergraduates and graduate students.
"The ratio of Caribbean students compared to the rest of the school population is relatively small, but it is large enough and increases steadily enough for the university to begin to recognize this group of students," Couti said. "Initially, when these students came to UK there wasn't an organization to connect them. One explanation that a group didn't already exist may be that the attendance at UK of students with Caribbean ancestry has previously never been this high."
Pierre knew about Couti's field of expertise and asked her to be the group's adviser. Couti and CASA share a similar goal of introducing students to new cultures. While Couti focuses on the academic side of Caribbean culture, CASA will be a way to educate members as well as the campus community about what is current and popular in Caribbean culture.
"Professor Couti has aided us a lot in the organization of the group, and she has helped in organizing the events we will be holding," Pierre said.  "She always has wonderful ideas to help make the event more successful, such as making sure we do everything the right way, and she attends all of our meetings to show us her support," said Pierre.
Caribbean Creole culture is a mixture of various cultures due to the combination of colonization and the slaves who worked the land.  In the language, European syntax mixes with African syntax.  French Creole culture mixes with the French, a remnant of when France once colonized the island, and the African languages from the slaves who worked the land. The intertwined cultures resulted in French Creole, a language that is a combination of African and French. Each island has its own traditions, holidays and music because of various European colonization patterns and influences, but often the media portrays an identity that isn't necessarily accurate.
"When a lot of people think about the Caribbean, they have the typical Jamaican cultural version of it with the reggae music, beaches, sunny skies and the Rastafarians. The recession has impacted the Caribbean very negatively. It's not as carefree as you think," Pierre said.
CASA hopes to eliminate misconceptions about the Caribbean cultures by educating members through various events and meetings. The group also hopes to serve as a reminder to students that you don't have to travel far to experience another culture. CASA's executive committee represents some of the diversity that the Caribbean encompasses with students from Haiti, St. Lucia and Puerto Rico. They will be collaborating with the newly constituted Caribbean Association of the Bluegrass, which includes members of UK faculty and staff as well as people working in the private sector of Lexington who are of Caribbean ancestry. The association is also open to all, including those who want to promote Caribbean heritage in the Bluegrass.
Those who are interested in furthering their Caribbean learning experience are encouraged to attend the two-day series Couti created that will include some of her colleagues from other universities. "Narrating the Caribbean: Food for the Soul or Food for Thought" begins at 4:45 p.m. today in the Niles Gallery of Lucille Caudill Little Fine Arts Library. The lecture, "Politics of Food and Sexuality in French Caribbean Literature," features Valerie Loichot (Emory University) and Couti as they examine the socio-political implication of sexuality, gender and violence in French Caribbean literature and Haiti's future.
Couti will introduce the second lecture in the miniseries "Consuming Haiti: Its Haunting Past and Sustainable Future" at 4 p.m. Friday, Feb. 3, in 103 Main Building. Myriam Chancy of the University of Cincinnati will present "A Marshall Plan for Haiti?: To End or Continue the Legacy of Revolution," and Nick Nesbitt of Princeton University will present "Haiti Then and Now: The Terror of Equality." Both events, part of UK's celebration of Black History Month, are free and open to the public.
CASA's first event on campus will be a dance class at 7 p.m. Thursday, Feb 9, at Martin Luther King Jr. Cultural Center in the Student Center. Club membership is open to all who are interested in learning about Caribbean culture.