Unified Protocol for Transdiagnostic Treatment of Emotional Disorders (6 CE)
Date:
03/02/2018 -

9:00am

to

4:30pm
Location:
Fayette County Extension Office | 1140 Harry Sykes Way | Lexington, KY 40504
Speaker(s) / Presenter(s):
Shannon Sauer-Zavala, PhD
Type of Event (for grouping events):
Contact:
Harris Psychological Services Center
harrispsc@gmail.com
(859) 257-6853
Workshop Details:
The proliferation of specific treatment manuals for specific disorders has created unintended barriers for implementation and dissemination of evidence-based psychological treatments. The Unified Protocol for the Treatment of Emotional Disorders (UP; Barlow et al., 2011) is a recently developed transdiagnostic, emotion-focused cognitive-behavioral treatment (CBT) that targets core deficits occurring across the neurotic spectrum (e.g., anxiety, depressive, and related disorders). This workshop will first briefly review evidence supporting the development of such transdiagnostic interventions. This will be followed by a description and demonstration of how to apply core UP treatment modules, along with the similarities and differences between the UP and traditional CBT. Audio and videotaped illustrations of core treatment interventions (e.g., mindful awareness, emotion exposures) will be presented, along with detailed case examples involving complex comorbidity. Attendees will be invited to participate in exercises as part of these demonstrations. This workshop is sponsored by the University of Kentucky Department of Psychology, The Harris Center, the Kentucky Psychological Association, and the Kentucky Psychological Foundation.
Workshop objectives:
Participants will develop a unified, transdiagnostic case conceptualization for patients presenting with comorbid emotional disorders.

Participants will apply emotion-focused treatment concepts and strategies (e.g., objective monitoring, emotional awareness training, cognitive reappraisal, reduction of emotional avoidance and maladaptive emotion driven behaviors) to patients presenting with comorbid emotional disorders.

Participants will create effective and cohesive emotion exposures for patients with depression and complex comorbidities.
About the Presenter: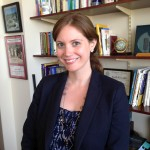 Shannon Sauer-Zavala is the Director of Education and Training for the Unified Protocol Institute. She received her doctorate in Clinical Psychology from the University of Kentucky and completed her internship at Duke University Medical Center. From there, Dr. Sauer-Zavala moved to Boston University's Center for Anxiety and Related Disorders to complete her post-doctoral fellowship under Dr. Barlow's mentorship in order to further enhance her CBT skills and to train in the UP. Dr. Sauer-Zavala was promoted to faculty in BU's Department of Psychology and currently divides her time between her research, clinical work, and dissemination efforts. Dr. Sauer-Zavala enjoys training others in research-supported psychological treatments, particularly the UP, through her faculty role in BU's clinical psychology Ph.D. program, as well as through the UP Institute's workshops and certification programs. Her research is focused on identifying factors that maintain symptoms across broad classes of disorders and using this information to streamline treatment for commonly co-occurring diagnoses. She is especially interested in developing/refining treatments for borderline personality disorder with comorbid mood and anxiety disorders and is currently pilot testing the UP in this population.
Audience:
Intermediate: The target audience will be mental health professionals, of varying degrees of experience and backgrounds, who have an interest in psychological interventions and have some familiarity with CBT for anxiety and mood disorders. This workshop is appropriate for Psychologists, Social Workers, and other Mental Health Professionals.
CE Credits/Attendance: This program will provide 6 CE credits.
Psychologists:
KPA is approved by the American Psychological Association to sponsor continuing education for psychologists. KPA maintains responsibility for this program and its content. KPA is also an approved sponsor for the Kentucky Board of Examiners of Psychology.  
Social Workers & Art Therapists: 
KPA is an approved sponsor for the Kentucky Board of Social Work, the Kentucky Board of Professional Art Therapists (Provider #1004)
| Registrant Type | Early-bird Registration (Ends Feb 16) | Pre Registration (Feb 17 – Mar 1) | Onsite Registration |
| --- | --- | --- | --- |
| UK Faculty/Staff or KPA Member | $135 | $155 | $199 |
| Non UK or KPA Member | N/A ($199) | $199 | $249 |
| Student (No CE Credit) | $35 | $45 | $60 |
It is important to note that APA continuing education rules require that KPA only give credit to those who attend the entire workshop.  An evaluation of the workshop must be completed. Those who arrive more than 15 minutes after the scheduled start time or leave before the workshop is complete will not receive CE credit. Partial credit may not be given.
Lunch will be on your own from 12 - 1pm. Snacks and coffee will be provided.
Cancellation Policy:
Cancellations received on/before Feb. 22, 2018 will receive a 90% refund. Cancellations received between Feb 23-25, 2018, will receive a 50% refund and cancellations between Feb. 26 - 28, 2018 will receive a 20% refund.   No refunds available after Feb. 28, 2018. All refund requests must be in writing to the Harris Center at the University of Kentucky: harrispsc@gmail.com.