Updates:
Openings in DBT Program
We anticipate several client openings in the Dialectical Behavior Therapy (DBT) program at the Harris Center. Due to the training needs of our doctoral student clinicians, we will prioritize patients who need full model DBT (Group, Individual, and Coaching Calls), but we may have spots for group-only clients (i.e., clients who already have an individual therapist).
DBT group meets on Monday evenings via Zoom. Services are provided on a very affordable sliding fee scale.
Interested persons can learn more about program by calling the Harris Center at 859-257-6853 or emailing harriscenter@uky.edu.
In-Person Services Have Resumed
We are now able to offer in-person psychotherapy and psychological assessment services (e.g., adult and child ADHD assessment, learning disability assessment, personality and intellectual assessment) at the Harris Center. As noted below, we continue to offer psychotherapy and adult ADHD assessments via telehealth as well. 
If you are interested in receiving psychotherapy or psychological assessment services, please call us at 859-257-6853 and leave a message with your name, phone number and preferred time to be contacted, or email this information to HarrisCenter@UKY.edu. Please note that this email is for routine non-confidential inquiries and is not for crises or emergencies.
Current Harris Center psychotherapy clients can reach the after-hours therapist at any time by calling 859-257-6853 to obtain the after-hours access number.  
Adult ADHD Assessments Remain Available by Telehealth
We remain able to offer a limited number of assessments for adult ADHD (attention deficit-hyperactivity disorder) via telehealth. These assessments are limited to adults age 18 and above. You must be in the state of Kentucky during the assessment sessions, have a device with stable internet and camera, and be able to pay for the assessment online with a debit or credit card. We are not able to offer other types of assessment at this time. 
Psychotherapy Services Remain Available by Telehealth
We remain able to offer a limited amount of psychotherapy services, including DBT (dialectical behavior therapy; individual therapy and group coping skills training) via telehealth. To receive psychotherapy via telehealth, you must be in the state of Kentucky at the time of each session, have a device with stable internet and camera, and be able to pay for services online with a debit or credit card. 
Please return to this page for ongoing updates about center services. If you are having a mental health crisis or emergency, call 911 or your local hospital emergency department. 
Mission of the Harris Center
The Harris Center (Jesse G. Harris, Jr. Psychological Services Center) is a university-based center designed to provide affordable psychological therapy and assessment services to the community.  It is also a training facility for graduate students in one of the leading Clinical Psychology doctoral programs in the nation.  Finally, it is a site for psychological research to develop new and more effective ways to understand and treat behavioral health concerns.
Overview of Services
The Harris Center offers a wide range of psychological services. An overview of the services we provide is listed below. Click here for more detail regarding the range of issues we treat, groups currently being offered, and assessment services.
Individual therapy (adults, adolescents, children)
Couples and family therapy
Groups and educational classes

Dialectical behavior therapy (DBT; adults and adolescents)
Mindfulness-based stress reduction
Coping and social skills (children)

Psychiatric (medication) consultation is available for active adult therapy clients
Testing services

Intellectual/giftedness
Learning disability
Attention-deficit/hyperactivity disorder (ADHD)
Personality
Diagnostic clarification
Appointments
To make an appointment for an initial consultation for yourself or your child, please call (859) 257-6853.
Hours and Parking
The Harris Center is open from 11:00 a.m. to 7:00 p.m. Monday through Thursday. We are closed on Fridays and on University-recognized holidays. Parking is available in the designated lot behind the center; the lot entrance is on Hester Alley. The center is accessible to persons with disabilities.
Map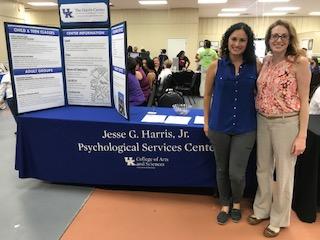 Contact Us
The Harris Center
644 Maxwelton Court, Lexington, KY 40508-3225
Phone: 859.257.6853     Fax: 859.257.6854
E-mail: harriscenter@uky.edu 
IMPORTANT NOTE: Email is NOT a confidential means of communication. This email is designed only to respond to non-urgent inquiries about center programs and services. Please do NOT use this email address to communicate any personal mental health information or to request any emergency or crisis services. This email is not monitored daily; several days may be required to receive a response.