Political Science Ph.D. Student
by Rebekah Tilley
Third-year political science graduate student Jonathan Powell is an early riser. By 6:30 each morning the Kentucky native is usually hiking up to Patterson Office Tower to start his day. Yet political science professor Dr. Daniel Morey always manages to beat him there.
"Dan is literally here at 5:00 AM every day. When I'm walking up I can see where his office is and the light's always on. One day I hope I'll be here before him but it's probably never going to happen," Powell said, shaking his head.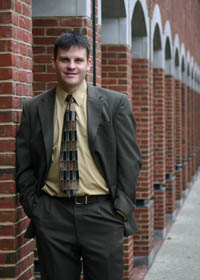 The hard working habits of both professor and student paid off recently when Powell's paper titled "Determinants of the Occurrence and Outcome of Coups d'etat" was the grand prize winner of the graduate student paper competition at the Annual Meeting of the International Studies Association – South. Powell found that past research on coups d'etat is limited to examining successful coups while largely overlooking those that have failed. His research fills a gaping hole in the literature that will allow political scientists and policy makers alike to have a more rounded understanding of the causes and results of future coups d'etat. 
"Previous coup research only tells you how things play out when you lose power, which isn't particularly helpful from a broader policy standpoint," Powell explained. "If you look at the failures you can see what those leaders did to keep themselves in power, what the security apparatus was that was able to fend off the threat, what coup-proofing strategies had they used before then that either might deter a coups attempt or, once one is put in motion, how is that going to help you stay in power." 
Interest in the subject prompted collaboration with Dr. Clayton Thyne, and through a "natural marriage" of research interests, Powell and Thyne together went about the painstaking work of building a massive data set that examined every coup d'etat attempt since 1950.  "It was a huge endeavor but it was really cool because here is a faculty member working with a student coding, doing the grunt work, looking through newspapers and Lexis-Nexis, which usually the graduate students would get stuck with. And he was more than willing to do his part."
Powell's decision to come to UK was largely driven by the quality of the faculty and the presence of the Patterson School of Diplomacy, which added another resource as he pursued research interests in international relations. As a first-year graduate student, Powell found that the doors of faculty members were always open to students. "I really can't overemphasize how accessible the faculty are outside the classroom," said Powell. 
Interaction with the faculty both inside and outside of the classroom that first year had a profound impact on Powell and the trajectory of his work as a graduate student. "When I first went to grad school I didn't realize how much political scientists use math," Powell smiled. "Of course you expect math with opinion polling, but I didn't realize that if you are studying war, you are going to be working with statistical models. As it turns out that is what the bulk of the research, especially in the top journals, is doing." 
In an early class with Morey, Powell was exposed to a more empirical and scientific way of looking at questions of international relations, and he never looked back. "Once I started understanding how they controlled for different contingences and factors it made much more sense than other approaches that I'd seen. I found it to be a much more fruitful way of doing research. I knew at that point it was what I wanted to do."
In his windowless graduate student office on the sixteenth floor, Powell also found a cohort of fellow students who were more than willing to support each other's research and teaching goals – from bouncing research ideas to reviewing papers and providing critical feedback, even spending twenty or thirty minutes of their time tracking down sources for a fellow student.  
In addition to a strong research environment, Powell has benefited from the opportunity to teach sections of political science courses completely independently. "If you have a teaching assistantship in most other political science programs, you're just a grader or you'll fill in and teach a single class for a professor, while here you're given an enormous amount of individual responsibility," Powell said.  "Here you come up with your own syllabus, you choose your own textbook, and it's all on you." Teaching not only gives Powell an advantage over other students coming out of other political science programs, but also allows Powell to sharpen his own knowledge of the field.
Powell's early mornings have paid off for him. He finishes course work this spring and is feeling confident about the development of his dissertation. With his strong research portfolio and significant departmental support, he is well on his way to a successful academic career.