by Robin Roenker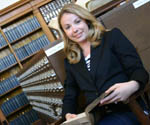 Katherine Osborne knew UK's Department of English was the right graduate program for her the moment she met then-DGS Ellen Rosenman during a campus tour.
"She talked about her work, but she was more interested in me," said Osborne, a Frankfort, Ky., native and graduate of Hanover College in Indiana. "I could tell she was interested in graduate students. That was evident from the get-go. She just completely turned me on to the program."
Now in her fifth year at UK, Osborne's interest in 19th-century British literature has flourished under Rosenman's mentoring. Osborne credits two of Rosenman's courses—one on George Eliot and the other on material objects in the Victorian age—as the impetus for development of her own dissertation focus. "I emerged from those classes with a strong idea of the topic I wanted to pursue," she said.
Osborne's research focuses on "the interaction between people and things in the Victorian novel" through readings of works by Victorian luminaries George Eliot, Charles Dickens, Elizabeth Gaskell, Margaret Oliphant and others, she said.
"I'm arguing that when these characters interact with material objects in the novel, they're actually experimenting with emotions, but from within the socially accepted space of commodity culture," Osborne explained.
With the recent award of a presidential graduate fellowship through UK's Graduate School for 2008-2009, Osborne will be able to take a break from her teaching duties within the department next year to focus full-time on finishing her dissertation.
"It's going to be pretty phenomenal. I'm a pretty disciplined worker, so I'll be able to set strict 9-to-5 hours for myself," she said.
It's likely during some of that time, Osborne will find herself at one of her favorite spots on campus: in front of the microfilm machine at UK's William T. Young Library, devouring the university's rich collection of 19th-century journals, conduct books, etiquette manuals, and newspapers.
"Our library has really strong 19th-century sources. And we just keep getting more and more," Osborne said. "I love the microfilm machine. I would be there every day if I could. Just comparing our newspapers with their big photographs to theirs with all the illustrations and cartoons, it puts you in a different world."
Osborne's English professors at UK have been "absolutely wonderful," she said. "Several in particular have just been really helpful, not only with my research and my scholarship but also with teaching and discussions of pedagogy, and just coming to functions and being good departmental citizens."
She credits English professor Virginia Blum for helping develop the theoretical framework for her dissertation, and Lisa Zunshine's class on cognitive theory as an introduction to viewing literature with an interdisciplinary, psychological perspective.
To enrich her research, Osborne has drawn on many A&S courses outside of the English Department as well—including several influential Gender and Women's Studies courses and key History Department offerings, like professor Phil Harling's course on the British Empire. "It was fascinating," she said.
While at UK, Osborne has also pursued a College Teaching and Learning Graduate Certificate through the department, allowing her to explore issues of pedagogy and effective teaching strategies.
A major highlight in Osborne's graduate career was helping to organize the 2007 British Women Writers Conference held at UK. As chair of the coordinating committee that worked for two years to bring the conference to campus, Osborne had a chance to directly network with and learn from some of the brightest professors in her field.
As Osborne prepares to enter the competitive job market perhaps as early as next fall, she knows she's been well prepared by her UK studies to tackle the next phase of her career.