LEXINGTON, Ky. (April 25, 2014) — Two University of Kentucky juniors have received the Undergraduate Research Abroad Scholarship (UGRAS) which will support their international independent research projects during the 2014 summer session.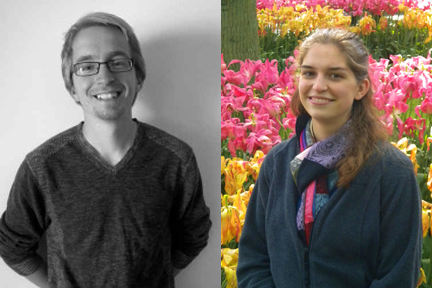 Tamas Nagy, a computer science and chemistry double major in the Colleges of Engineering and Arts & Sciences, and Alexis Thompson, an animal science/pre-veterinary science major in the College of Agriculture, Food and Environment, have been awarded the scholarships which support experienced undergraduate researchers as they explore their academic interests abroad ­– with the support of UK faculty mentors. These scholarships are the result of a collaboration between the UK Office of Undergraduate Research and Education Abroad at UK, and will pay up to $5,000 for Nagy and Thompson to cover the costs of their research projects.
"We are so proud of our UGRAS awardees and very excited about the projects they are undertaking," said Diane Snow, director of UK's Office of Undergraduate Research. "Research has no boundaries.  A researcher's interests can take them across this country, or across the globe to find answers.  These international projects will enhance the student's research capacity here at UK, as well as their UK mentor's research programs – a true 'win-win!'"
Nagy will complete his project, "Systems Biology of Rotavirus Infection: Inferring Functional Host-Virus Genetic Interactions by Mapping Cellular Response to Infection and RNAi Perturbation," in Switzerland under the mentorship of Lucas Pelkmans at the University of Zurich. Nagy's UK faculty mentor is Rebecca Dutch, professor of molecular and cellular biochemistry.
"I am honored and excited to receive this award; it will let me experience and contribute to a world-class systems biology lab over the summer," said Nagy, who is also a Singletary Scholar, Chellgren Fellow and in the Honors Program. "I intend to make good use of this grant to go and explore a field that I am very interested in and one that I am considering for graduate school. With this scholarship, UK is offering a very special opportunity to its students that is not available at most other Research 1 universities. In addition to providing its students with stellar research options locally; UK, through this scholarship, helps driven students to investigate new areas and ideas at other excellent institutions."
Thompson will complete her project, "Ideal level of slow release urea for dairy cows on a grass silage diet," in Brazil under the mentorship of Marcos Marcondes at the Universidade Federal de Viçosa. Thompson's UK faculty mentor is Jeffrey Bewley, assistant professor of animal and food sciences.
"I have been involved in research since I started at UK," said Thompson. "My overall goals for myself is to gain experience with how research is conducted in other countries and cultural differences of the world. This project lets me travel and achieve both of these goals. My future plans are to attend veterinary school and become a practicing veterinarian. The project influences my future plans by allowing me to understand and interpret research to provide the best services to my patients and strengthen my communication skills with my clients."
The institutional benefit of undergraduate research is only a part of why Anthony Ogden, director of Education Abroad at UK, deems the scholarships a smart investment.
"As a research one institution, we are investing in students to ensure they graduate with the knowledge and skills to engage with their discipline on the world stage. Conducting research abroad will help students learn the demands and rigor of their field in a way they wouldn't at UK, or even in the U.S."
Ogden has observed that undergraduate students who participate in research abroad programs often go on to pursue graduate or professional degrees in their fields.
"These experiences not only foster necessary skills in a given field, but they also lay the foundation for a student's professional network."