Lindsey Hammerslag
Research Interests:
Rat models of opioid use disorder
Pharmacological interventions for cocaine-use disorders
Sex Differences in Drug Abuse
Immunohistochemistry
Retrograde tracing
Microscopy
Improving preclinical models
Research
Behavioral models of addiction
I work in the lab of Dr. Michael Bardo, where I study the neuroscience of addiction, from initial vulnerability to relapse. My work has focused on the development of novel behavioral models, designed to produce robust and reliable results. These models are optimized for studying factors (e.g., sex, age, social interaction) that are important for the human condition of addiction and often missing from preclinical studies. The primary goal of my research is to improve the translational validity of our behavioral models.
I have recently completed a study using behavioral economics to determine whether demand for a common synthetic opioid, fentanyl, is reduced by the compounds used in medication assisted treatment. The focus of my ongoing work, however, is social reinstatement of drug seeking. We know that individuals with substance use disorders who have recently experienced a relapse often report socializing with drug-using peers. However, until recently there have not been any preclinical models available to capture this phenomenon. We have developed a model that allows us to examine the robust effect of drug-associated peers and we have optimized it for repeated testing, allowing future mechanistic and pharmacoetherapeutic testing. It is our hope this peer-induced reinstatement model will eventually be incorporated into routine preclinical testing.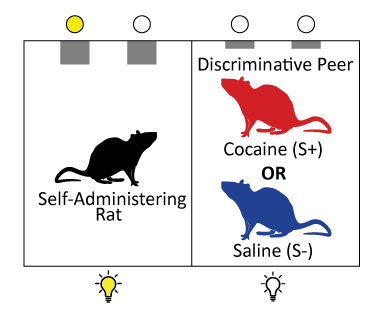 Social reinstatement in the Bardo lab; rat image by Kasey Mannes, diagram by L Hammerslag.
Neurobiological mechanisms underlying social influences on drug seeking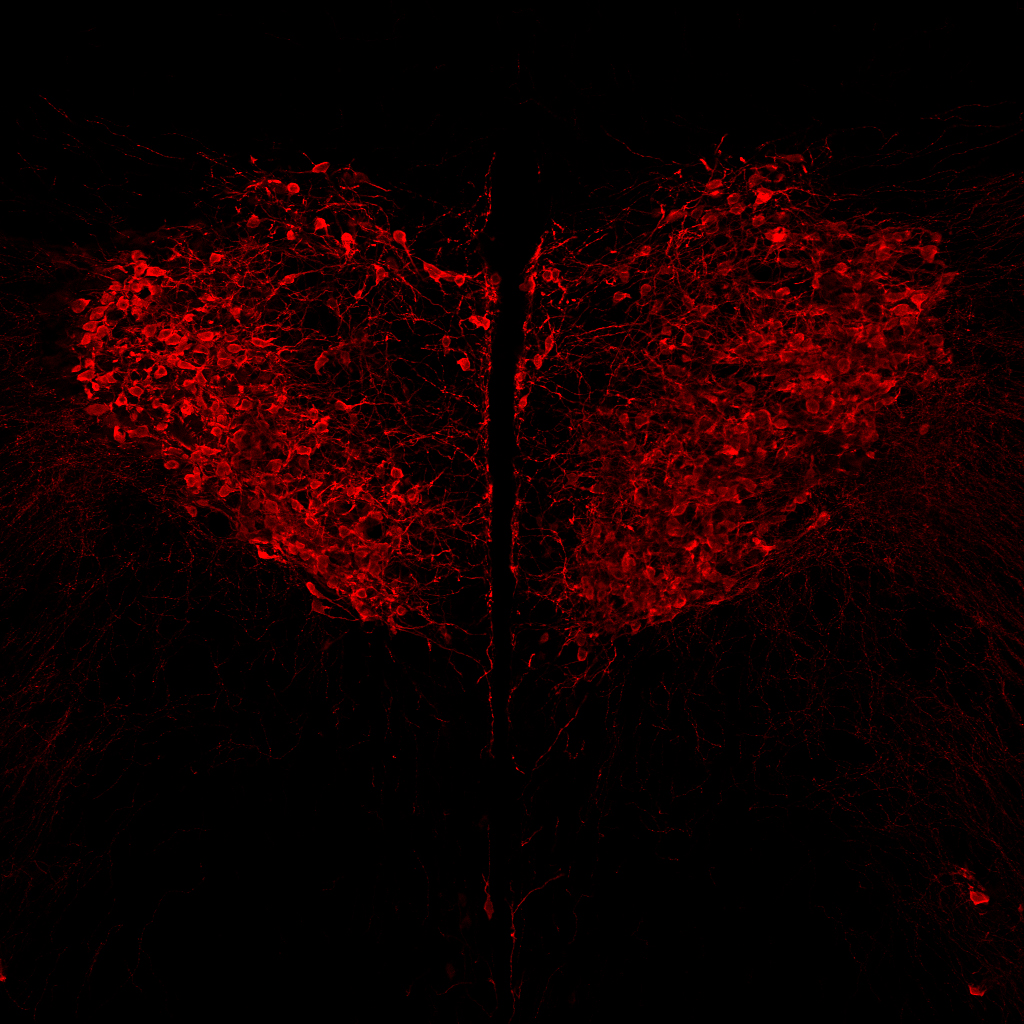 View of hypothalamic oxytocin-releasing neurons in the paraventricular nucleus taken by L. Hammerslag.
I am currently using immunohistochemistry and designer receptors exclusively activated by designer drugs (DREADDs) to examine the role of the oxytocin system in controlling socially-induced drug seeking.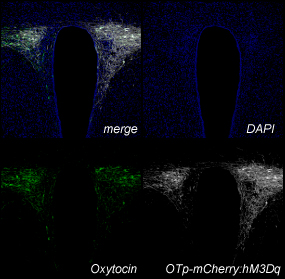 Oxytocin-promoter linked DREADD virus from the lab of
Dr. Valery Grinevich
, image by L Hammerslag. 
Oxytocin is a neuropeptide that may be the key to understanding the relationship between social risk factors, such as ioslation during development, and addiction vulnerability. Recent preclinical and clinical work has also focused on oxytocin's ability to suppress drug seeking; understanding this system could give us insight into new treatments and prevention strategies for substance use disorders.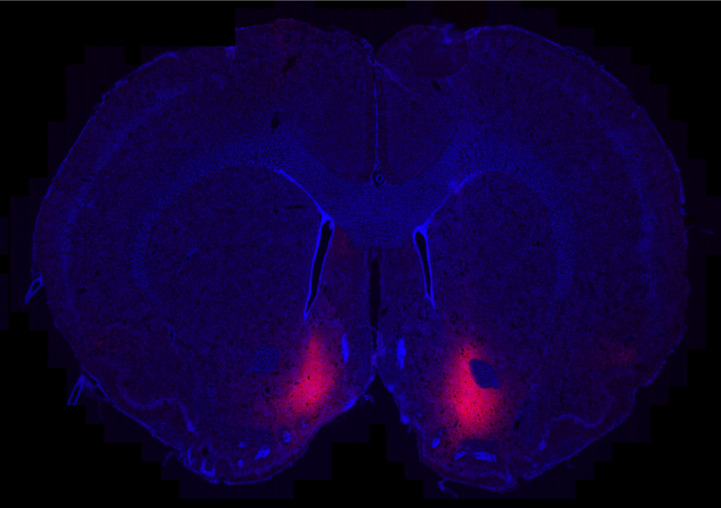 Injection of the retrograde tracer cholera toxin b (CTb) into the nucleus accumbens, image by L Hammerslag
Using retrograde tracing, I will examine the effects of social isolation on projections from oxytocin-releasing neurons to regions involved in drug seeking. I hypothesize that these projections will be impoverished in isolated animals and that this hypofunction of oxytocin may lead to greater drug-induced reward.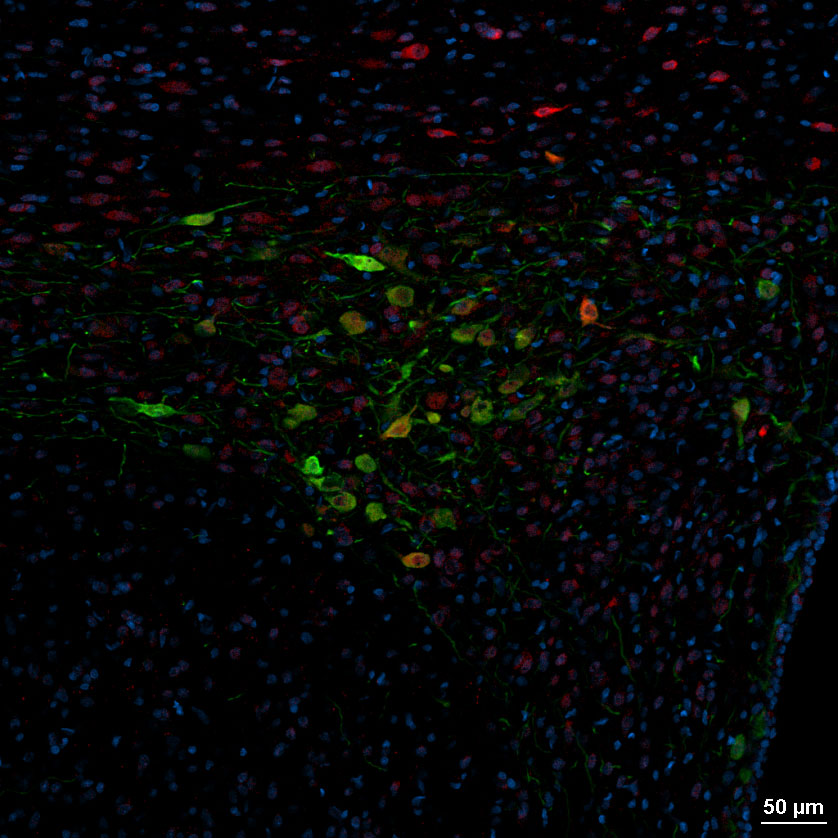 Example of projections from hypothalamic oxytocin neurons (green) to the nucleus accumbens. CTb (red) was injected into the NAc 7 days prior to tissue collection. Cell nuclei are labeled in blue. 
Leadership
As vice president of the Society for Postdoctoral Scholars I have been able to advocate for structural improvements to postdoctoral training on campus. We have implemented new initiatives for postdoc appreciation and wellbeing while expanding the networking opportunities available to UKY postdocs through new partnerships. We have joined the National Postdoctoral Association, allowing UKY postdocs greater access to professional development tools and opportunities, and have increased our professional development programming.  Thanks to partnerships with the graduate college we have also expanded our budget and anticipate the opening of an office of postdoctoral affairs in Fall, 2019.
As vice president I have organized workshops, including a visual communication workshop hosted by Dr. Melissa Clarkson, and helped plan the annual research symposium for two years. Our 5th Annual Research Symposium, in June 2019, brought more postdocs than ever, with postdocs visiting from neighboring institutions in Tenessee and Ohio. I have also spearheaded the Southeastern Postdoc Exchange (SPEx) initiative at UKY; SPEx was launched in 2019 by the Vanderbilt Postdoctoral Association and has helped UKY postdocs build greater ties with Vanderbilt and Oakridge National Labs. Finally, I have managed the SOPS website, graphic design, and promotional materials since 2017. 
Therapeutics, Outcomes, Discovery & Delivery (TODD) Symposium
I am a member of the planning committee for the 10th Annual TODD Symposium. I designed the artwork that will be used on promotional materials and have helped to with the organization of the event, which is focused on Substance Use Disorders. 
College of Problems on Drug Dependence Media Committee
I am about to begin a three year committment to the CPDD Media Committee. 
Selected Publications:
T.H.C. Cheung, B.C. Nolan, L. R. Hammerslag, S.M. Weber, J.P. Durbin, N. A. Peartree, R. H. Mach, R.R. Luedtke, J.L. Neisewander (2012) Phenylpiperazine derivatives with selectivity for dopamine D3 receptors modulate cocaine self-administration in rats. Neuropharmacology 63:1346–59.
L. R. Hammerslag, J. M. Gulley (2013) Age and sex differences in reward behavior in adolescent and adult rats. Developmental Psychobiology 56(4):611-621.
B. C. Nolan, S. Liu, L. R. Hammerslag, T.H.C. Cheung, J. Lenz, R.H. Mach, R.R. Luedtke, J.L. Neisewander (2013) Fos expression in response to phenylpiperazine drugs exhibiting selectivity for dopamine D3 receptors given with or without cocaine. Synapse 67:847-855.
L. R. Hammerslag, A. J.Waldman*, J. M. Gulley (2014) Effects of amphetamine exposure in adolescence or young adulthood on inhibitory control in adult male and female rats. Behavioural Brain Research 263:22-33.
L. R. Hammerslag, J. M. Gulley (2015) Sex differences in behavior and neural development and their role in adolescent vulnerability to substance use. Behavioural Brain Research, 298, 7–11.
E. R. Hankosky, L. K. Sherrill, L. A. Ruvola, R. M. Haake, T. Kim, L. R. Hammerslag, D. G. Kougias, J. M. Juraska (2016) Effects of β-hydroxy-β-methyl butyrate on working memory and cognitive flexibility in an animal model of aging. Nutritional Neuroscience, 8305(February).
V. G. Weiss, J. R. Yates, J. S. Beckmann, L. R. Hammerslag, M. T. Bardo (2018). Social Reinstatement:  A Rat Model of Peer-Induced Relapse. Psychopharmacology.
L. R. Hammerslag, A. Belagodu, O. A. Aladesuyi Arogundade*, A. G. Karountzos*, Q. Guo*, J. M. Gulley (2019). Adolescent impulsivity as a sex- and subtype-dependent predictor of impulsivity, alcohol drinking, and D2 receptor expression in adulthood. Addiction Biology.
V. G. Weiss, L. R. Hammerslag, M. T. Bardo (in press) Effect of a social peer on risky decision-making in adolescent male Sprague Dawley rats. Experimental and Clinical Psychopharmacology.
M. T. Bardo, E.D. Denehy, L. R. Hammerslag, L. P. Dwoskin, B. E. Blough, A. Landavazo, J. Bergman and S. J. Kohut (accepted pending revision). Effects Methamphetamine Isomers on d-Methamphetamine Self-Administration and Food-Maintained Responding in Male Rats.
L. R. Hammerslag, R. S. Hofford, J. S. Beckmann, M. T. Bardo (in preparation). Changes in fentanyl demand following naltrexone, morphine, and buprenorphine in male rats.
L. R. Hammerslag, J. S. Beckmann, M. T. Bardo (in preparation). A robust model of social drug seeking in rats: comparison to nonsocial drug-seeking and examination of chemogenetic activation of oxytocin-releasing hypothalamic cells.