Janet Neisewander spends a lot of her time with rodents and cocaine.
As strange as that may sound, the research the Arizona State University professor is doing with those two things may someday help people struggling with addiction.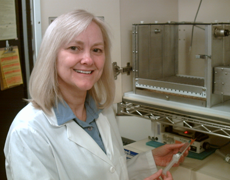 Neisewander, who earned her Ph.D. in psychology from the University of Kentucky in 1988, became interested in how the brain is connected to behavior early on in her academic career.
As a freshman at Rockford College in Rockford, Ill. Neisewander became passionate about the human brain.
"I was fascinated by the way the brain is involved in behavior and how brain dysfunctions result in dysfunctional behavior," she said.
As she was finishing her bachelor's degree in biology and psychology, Neisewander looked for graduate programs that would allow her to continue her studies.
"I wanted a good graduate training program that wasn't too far from home," she said. "I was fascinated by the work being done in Lexington with substance abuse and addiction research and I knew I wanted to be a part of that."
Neisewander, 48, started at UK in 1983. Academically, it was a good choice, she said.
"I loved the University of Kentucky," she said. "My program had a small group of dedicated faculty and students. My mentor, Mike Bardo, put a lot of time into keeping me focused and reminding me of what I needed to do to be competitive."
The campus environment and Lexington community also left their mark, she said.
In her office at Arizona State, she always has a Kentucky basketball poster.
"I fell in love with horse racing and Keeneland while I was there, too," she said. "Those were fun times."
Neisewander's research at UK concentrated on drug conditioning.
"When someone takes an abused drug, there are things about the environment that become associated with the effects of the drug," she said. "It can be the music, the place, the people they're with. Any number of factors can be involved. Those things can become cues for the brain."
Those cues can trigger drug cravings that make it difficult to quit using the drug, she explained.
"I'm still studying that today," Neisewander said.
While she spent some time with schizophrenia research while she was completing her post doctoral work at the University of Pennsylvania, Neisewander's primary research focus continues to be drug seeking behavior and drug conditioning. Her research has been funded by the National Institute on Drug Abuse for the past 19 years.
In her lab, Neisewander and her students train rats to press a lever for infusions of cocaine that are accompanied by light and tonal cues. After the rats are highly motivated to receive cocaine, cocaine is withheld and eventually they quit pressing the lever. At that point, presenting the cues that had previously accompanied cocaine infusions will reinstate lever pressing, an indicator of cocaine seeking behavior motivated by the cues. Neisewander has shown that cocaine seeking behavior can be modulated by altering brain signals involving the chemical neurotransmitters dopamine, serotonin and glutamate. 
Neisewander has been in Arizona since 1991 and met her husband, Tom Shepherd after she moved west. The couple has a daughter, Katie, 10, and a son, Erick, 3.
Neisewander's advice to anyone interested in her field is to fully research what it will take to be successful.
"You have to work hard in your studies but also to learn what the field will expect in order for you to be competitive," she said. "My mentor took me to conferences where I could network and practice presenting my work. You have to show you're productive."
More important, Neisewander said to find something you enjoy.
"My advice to any students is that to be successful in an academic career, you have to be passionate about it," she said. "There will be lots of work ahead of you so loving what you do will make it easier. Your career will be so much richer if it's a labor of love. That's how it is for me."
by Sara Cunningham
photo courtesy of Janet Neisewander