Growing up in Athens, Greece, Panayotis "Taki" Petrou knew he wanted to study in the United States when he was older.
Three of his uncles lived in America and his older sister had already left Greece for school in Chicago.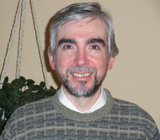 "I was finishing high school and thinking about college, and it had always been my dream to go to the U.S.," Petrou said.
As far as choosing the University of Kentucky as his American destination, Petrou took a pretty simple approach. "Kentucky had similar latitude as Greece so I figured that the weather would be similar," he said, laughing.
In researching UK, Petrou also found a school with reasonable tuition in an area of the country with an affordable cost of living, he said.
"I also liked that it was a big school," he said. "It had a lot to offer."
While Petrou felt comfortable with his choice in schools, he didn't stick with his pre-med major for very long.
Shortly after starting in the spring of 1986, he took his first psychology class and immediately switched his major.
"It was an immediate fit for me," Petrou said of psychology. "It appealed to me because the field works to really understand human behavior. It was a natural fit."
In addition to focusing on his class work, Petrou became active in the discipline's honor's society, Psi Chi. Faculty member Richard Milich quickly became a mentor for Petrou.
"He, like the rest of the department, was very caring and very supportive of students," Petrou said. "The faculty really helped us to grow academically. They were very good at fostering scholarship. They were also very open to you expressing yourself openly and freely. They were not afraid of a challenge."
During the summer of his sophomore year, Petrou worked as a para-professional counselor at a summer camp run by the University of Pittsburgh Clinic for children with attention deficit disorder. It was a job that Milich helped him get.
After completing his senior year thesis project on the impact of attitude and stress on depression and finishing his bachelor's degree in May of 1989, it was time for Petrou to move on to a graduate program. He stayed at UK.
"I had looked at other schools but when I came back to it, I just really liked UK best," he said. "I had just been so impressed as an undergraduate by how the faculty encouraged us that I could not justify leaving UK."
In addition to studying how beliefs, attitudes and stress affect depression, Petrou examined attachment patterns in childhood, adolescence and adulthood.
After finishing his graduate work at UK in 1994, Petrou went to Hutchings Psychiatric Center in Syracuse, New York, for a year-long clinical internship where he worked with patients suffering from chronic mental illness. While in Syracuse, Petrou met his wife, Janet, who is a social worker and decided to stay in upstate New York.
Petrou has been part of a group practice called Psychological Healthcare since 1996. He works with both adolescents and adults in individual therapy as well as family counseling.
In addition to his work as a psychologist, Petrou has volunteered some of his time during the past 16 years to translating a spiritual text, titled "A Course in Miracles," from English to Greek.
"It's a labor of love," he said. "It was written by a clinical psychologist in the 70s and I think that people in Greece will benefit from it."
Though he keeps busy in New York, Petrou said that he hasn't forgotten his time at UK.
"UK's such a great campus," he said. "It's so student-friendly and there are tremendous opportunities there for everyone. The faculty I worked with really made sure I was prepared for what came after college. It was a great choice for me."
by Sara Cunningham
photo courtesy of Taki Petrou