Location:
Spencerian College | 2355 Harrodsburg Rd, Lexington, KY 40504
Speaker(s) / Presenter(s):
April R. Smith, PhD
Contact:
Harris Psychological Services Center
harrispsc@gmail.com
(859) 257-6853
Workshop Details:
Materials covered in this workshop are adopted from Cognitive Behavior Therapy and Eating Disorders (2008) by Christopher Fairburn, which is a resource guide for clinicians who wish to learn the skills needed to manage and treat clients with eating disorders. This treatment is considered to be a leading empirically supported treatment for eating disorders. This workshop will demonstrate how the transdiagnostic approach can be used with the full range of eating disorders seen in outpatient practice. This workshop is sponsored by the University of Kentucky Department of Psychology, The Harris Center, the Kentucky Psychological Association, and the Kentucky Psychological Foundation.
Workshop objectives:
Identify the transdiagnostic view of eating disorders and key aspects of eating disorder behavior
Describe cognitive-behavioral and psychoeducational interventions to address eating disorder related cognitive schemas
Utilize cognitive behavioral techniques to address shape and weight concerns
Identify other empirically supported treatment options for eating disorders
About the Presenter: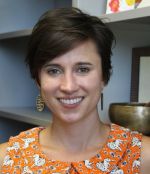 April R. Smith, Ph.D, is a licensed psychologist and an Assistant Professor in the Clinical Psychology Program at Miami University. Her clinical and research interests are eating disorders, suicidality, and their co-occurrence. She is a member of the Eating Disorder Research Society and the Military Suicide Research Consortium. She was awarded the Academy for Eating Disorders Early Career Investigator Fellowship, and her research has received funding from the National Institute of Mental Health and the Department of Defense.
Audience:
Beginner: The target audience will be mental health professionals, of varying degrees of experience and backgrounds, who have an interest in psychological interventions for eating disorders. Some familiarity with CBT would be helpful. This workshop is appropriate for Psychologists, Social Workers, and other Mental Health Professionals.
CE Credits/Attendance: This program will provide 3 CE credits.
Psychologists:
KPA is approved by the American Psychological Association to sponsor continuing education for psychologists. KPA maintains responsibility for this program and its content. KPA is also an approved sponsor for the Kentucky Board of Examiners of Psychology.  
Social Workers & Art Therapists: 
KPA is an approved sponsor for the Kentucky Board of Social Work, the Kentucky Board of Professional Art Therapists (Provider #1004)
| Registrant Type | Early-bird Registration (Ends Apr 12) | Pre Registration (Apr 13 – Apr 26) | Onsite Registration |
| --- | --- | --- | --- |
| UK Faculty/Staff or KPA Member | $85 | $105 | $149 |
| Non UK or KPA Member | N/A ($139) | $139 | $199 |
| Student (No CE Credit) | $15 | $20 | $35 |
It is important to note that APA continuing education rules require that KPA only give credit to those who attend the entire workshop.  An evaluation of the workshop must be completed. Those who arrive more than 15 minutes after the scheduled start time or leave before the workshop is complete will not receive CE credit. Partial credit may not be given.
Snacks and coffee will be provided.
Cancellation Policy:
Cancellations received on/before Apr. 19, 2018 will receive a 90% refund. Cancellations received between Apr 20-22, 2018, will receive a 50% refund and cancellations between Apr. 23 - 25, 2018 will receive a 20% refund.   No refunds available after Apr. 25, 2018. All refund requests must be in writing to the Harris Center at the University of Kentucky: harrispsc@gmail.com.
Type of Event (for grouping events):