Chana Akins Chosen for Prestigious ACE Fellowship
By Lindsey Piercy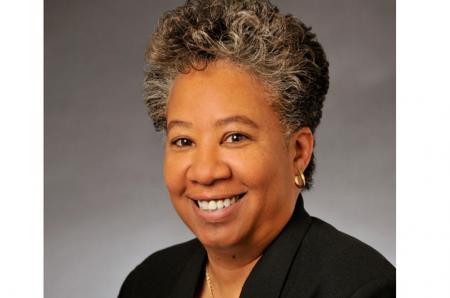 The American Council on Education has announced that Chana Akins, professor of psychology at the University of Kentucky, has been named an ACE Fellow for the 2018-19 academic year.
Established in 1965, the ACE Fellows Program is designed to strengthen institutions and leadership in American higher education by identifying and preparing faculty and staff for senior positions in college and university administration through its distinctive and intensive nominator-driven, cohort-based mentorship model. Following nomination by the senior administration of their institutions and a rigorous application process, 45 fellows were selected this year.
More than 2,000 higher education leaders have participated in the ACE Fellows Program over the past five decades, with more than 80 percent of fellows having gone on to serve as senior leaders of colleges and universities.
"For more than a half-century, the ACE Fellows Program has been a powerful engine fueling the expansion of a talented and diverse higher education leadership pipeline," ACE President Ted Mitchell said. "We are excited to welcome this new class of fellows and look forward to each enjoying a transformative experience that will help advance individual leadership readiness while also enriching the capacity of institutions to innovate and thrive."
Akins is currently area coordinator for the Behavioral Neuroscience and Psychopharmacology Area and is former associate chair of the Department of Psychology. She has held numerous service positions within her institution and at the national level including: chair of the Dean's Executive Committee and the Faculty-staff Collegiality Committee, Promotion and Tenure Committee for the Social Sciences and president of the American Psychological Association (APA) Division 6.
Akins is a member of the inaugural class of the Leadership Institute for Women in Psychology (APA) and a past participant of the Bluegrass Academic Leadership Academy and Women in Executive Leadership Development Program at UK. She has also served as associate editor of Psychology of Women's Quarterly and Learning & Behavior and has been the recipient of several teaching and mentoring awards including: the Provost Outstanding Teacher Award, Great Teacher Award for Outstanding Teaching and Faculty Mentor of the Year.
Akins' current research is focused on underlying learning and neurobiological mechanisms of substance abuse and alcoholism. Her research has been supported by several grants from the National Institute of Drug Abuse. She has also mentored several graduate students, two of whom are currently in tenure track positions, one at Centre College and one at Slippery Rock University.
"It is very much an honor to have been selected as an ACE fellow. I hope that the program provides me with training and experiences that are transformative and an opportunity to grow personally and as a leader," Akins said. "I want to thank President Capilouto, Provost Blackwell, Dean Kornbluh, and my chair, Robert Lorch, for their support and encouragement. I'm also grateful to Andrew Hippisley (former ACE fellow here at UK) who has been very helpful at guiding me through the process."
The ACE Fellows Program combines retreats, interactive learning opportunities, visits to campuses and other higher education-related organizations, and placement at another higher education institution to condense years of on-the-job experience and skills development into a single year. During the placement, fellows observe and work with the president and other senior officers at their host institution, attend decision-making meetings and focus on issues of interest. Fellows also conduct projects of pressing concern for their home institution and seek to implement their findings upon completion of the fellowship placement.
At the end of the fellowship year, ACE Fellows return to their home institution with new knowledge and skills that contribute to capacity-building efforts, along with a network of peers across the country and abroad.
UK is the University for Kentucky. At UK, we are educating more students, treating more patients with complex illnesses and conducting more research and service than at any time in our 150-year history. To read more about the UK story and how you can support continued investment in your university and the Commonwealth, go to: uky.edu/uk4ky. #uk4ky #seeblue