By Loretta Stafford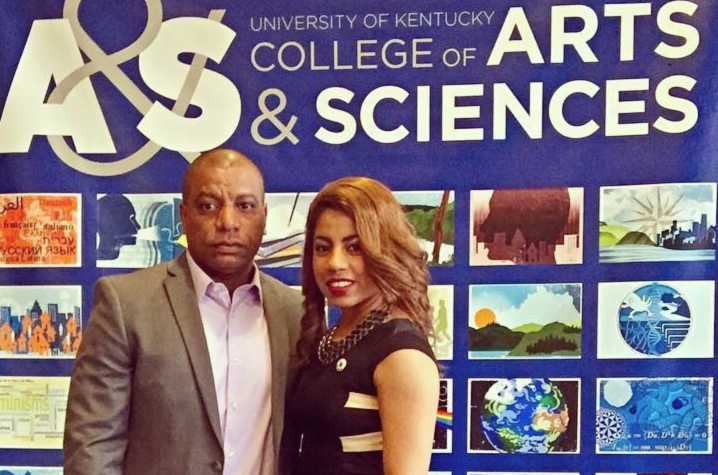 Over the last year, University of Kentucky neuroscience senior and Cuban native Giamnys "Gia" Valdés Lastre has worked closely with Mark Prendergast, professor of neuroscience and psychology in the UK College of Arts and Sciences, and the UK College of Pharmacy's Center for Pharmaceutical Research and Innovation on research concerning extremophile bacteria and alcohol-related brain damage.
As an undergraduate research assistant in Prendergast's lab, Valdés Lastre is part of a team that has studied a species of bacteria found at the site of the Ruth Mullins coal fire near Hazard, Kentucky. These bacteria produce chemical substances not seen before, because they thrive only under extreme conditions. The team has worked to determine the ability of these compounds to influence biochemical systems that cause brain damage during binge-like alcohol exposure in isolated brain cells. Recently, they found that one of the compounds they observed displayed notable activity to suggest that it might be able to reverse damage caused by alcohol. This discovery could have enormous clinical significance and hundreds of applications when it comes to preventing or altogether stopping alcohol-related neurodegeneration.
"Gia has been a tremendous asset to the lab these past few years and I anticipate that her work will contribute to two or three published scientific manuscripts, with her included as a co-author," Prendergast said. "Her enthusiasm for neuroscience is infectious."
Valdés Lastre was born in Amancio in the Las Tunas province of Cuba during what is known as the "período especial," or "special period." The term "special period" is a euphemism used to describe an extended period of economic crisis that began in 1989 and lasted through the mid-90s. During this time, many Cubans were looking to immigrate to the United States in order to build a more stable life. This resulted in the Cuban rafter crisis, a mass exodus of families attempting to leave the country on self-constructed boats. In response, the Clinton administration opened the Special Cuban Migration Program, a visa lottery through which successful applicants were granted parole status with a visa that was good for six months. Valdés Lastre was just two years old when her father was selected as a lottery winner and soon after moved to Kentucky. For 15 years, he traveled back and forth from the U.S. to Cuba to visit her. After he was diagnosed with diabetes mellitus, she decided that she wanted to move to the U.S. to live with him, and so she did on her 18th birthday.
Shortly after arriving in the U.S., Valdés Lastre was faced with the decision of choosing where to attend college. At the time, she was still learning English and wanted to stay relatively close to home. She recalls visiting UK for the first time, describing the experience as love at first sight.
"I loved everything about UK because it felt like more than just a school: it's a community of like-minded people with the same fears and dreams," she said. "Three years after coming here, it has definitely been one of the best decisions of my life."
This summer, Valdés Lastre plans on participating in UK's Summer Training in Alcohol Research program and taking the MCAT (Medical College Admissions Test). In the future, she plans on pursuing a career in neurosurgery or preventative medicine.
Valdés Lastre expressed her gratitude for having the opportunity to work with Prendergast and his team.
"Sometimes when I look back and see where I am and what I'm doing, it strikes me really hard."
"It has been a genuine pleasure to work with Gia," said Prendergast. "She will accomplish great things in science!"