Everything is Science: University of Kentucky Hosts City-Wide Science Festival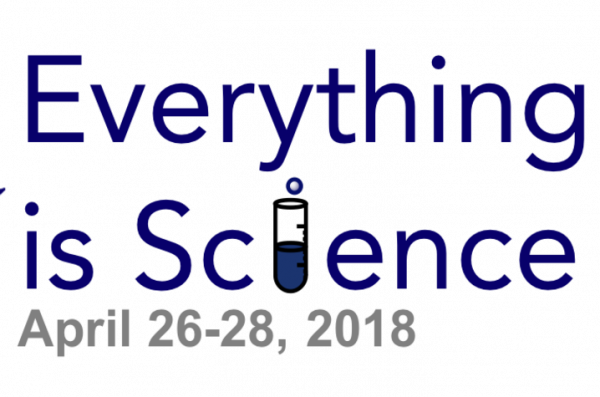 Science is all around us, from the design of the buildings we drive by on our way to work, to the brewing of our favorite beverages, to the development of pharmaceuticals to help us live longer and healthier lives. But how much do you know about how these everyday commodities actually work?
A group of professors and students at the University of Kentucky College of Pharmacy, along with community partners like Keeneland and AllTech are working together to introduce the Lexington community to the science around us. Everything is Science is a science festival that will be held at different locations all throughout the city, with concurrent events happening Thursday, April 26th through Saturday, April 28th.
Everything is Science aims to bridge the gap between scientists and the general public while making science accessible. Their mission is to demonstrate how science is happening all around us and not just in research labs, while allowing the community to come together and celebrate the science that makes the Bluegrass great.
"I'm a first-generation college student and I come from a family with little to no exposure to science. Sometimes there's a level of mistrust when it comes to research and data that's so far removed from everyday life," said Jarrod Creameans, a UK graduate student on the planning committee. "Everything is Science makes science easy to understand and interactive, instead of something that happens behind closed doors."
Speakers include experts in their fields ranging from AllTech's master distiller and brewer, a former two-time Academic All-American UK soccer player, a patient with Parkinson's disease and his physician, a researcher who struggled with substance use disorder, a second-grade STEM teacher from San Francisco, plus many more.
The topics cover subject areas that are relevant to the Lexington community and involve several colleges from UK's campus. Events will consist of panels or talks on everything from distilling, horse pharmacy, substance use disorder, architecture, infectious diseases, space, education, cancer, aging and health disparities. The range of topics and the variety within each event should have something for everyone.
"We're not just about working in the lab or the clinic," said Kip Guy, dean of the UK College of Pharmacy. "We're also about living in this community and doing well by it. Everything is Science is one example of how our College and the greater UK community can be good neighbors and really celebrate what makes Kentucky unique."
All events are free and open to the public. No registration required.
Everything is Science Schedule of Events
Thursday, April 26
From Stories to STEM – the Science of Education, Crank & Boom (5:30-7:30 p.m.)
Head, Shoulders, Knees, and Toes – the Science of Sports Medicine, Kentucky Native Café (6:30-8:30 p.m.)
Out in the Open – the Science of LGBTQ* Health Disparities, Ethereal Brewing (7:30-9:30 p.m.
Friday, April 27
Hold Your Horses – the Science of Horse Racing, Keeneland on The Hill (1-6 p.m. in between races)
Creepy Crawlers – the Science of Infectious Diseases, Al's Bar (5:30-7:30 p.m.)
Kentucky Anonymous – the Science of Substance Use Disorder & Recovery, Rock House (6:30-8:30 p.m.)
Mapping the Big C – the Science of Cancer & Personalized Medicine, Pazzo's (7:30-9:30 p.m.)
Saturday, April 28
Cheers to You! – the Science of Brewing and Distilling and Wine Making, Parlay Social (5:30-7:30 p.m.)
Life in Space – the Science of What's Above, Below, and Around Us, Pivot (6:30-8:30 p.m.)
Head to Head – the Science of Aging & the Brain, Bear and the Butcher (7:30-9:30 p.m.)
For the most up-to-date information about Everything is Science, visit: bit.ly/EverythingScience