Impressive Undergraduate Researchers Take Work to State Capitol
By Gail Hairston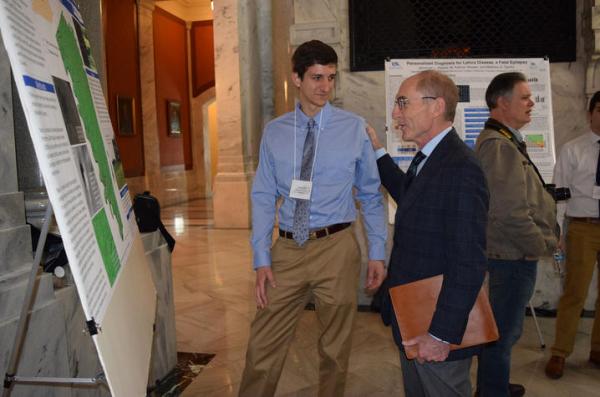 UK geology senior Adam Nolte explains his research on sinkholes in Woodford County to President Capilouto.
The University of Kentucky was represented by 16 undergraduate students and their 14 research projects at the 17th annual Posters-at-the-Capitol event last week at the Kentucky State Capitol in Frankfort.
Posters-at-the-Capitol is an annual event that showcases undergraduate researchers representing colleges and universities throughout Kentucky. The annual collaborative event was created to educate Kentucky state legislators of the importance of undergraduate research and scholarly work.
Kentucky Gov. Matt Bevin, members of the General Assembly, representatives from students' hometowns and other guests toured the exhibitions and engaged directly with some of the state's best young scholars.
The mission of Posters-at-the-Capitol is to help increase the understanding of the important role undergraduate research plays in the education of undergraduate students among those responsible for higher education funding in Kentucky.
University of Kentucky President Eli Capilouto attended the event and visited with UK students, who were thrilled they had the opportunity to present their research to him.
The following students and their research represented the University of Kentucky at the state capitol last week:
Alexis Axtell, human health sciences, sophomore. Faculty mentors: Tim Uhl and Natalie Myers. Project title: "Stroke Volume During Practice and Match Play in Junior Tennis Players."
Kendall Brown, psychology, sophomore. Faculty mentors: Jazmin Brown-Iannuzzi and Stephanie McKee. Project title: "Does Perceived Wealth Inequality Influence People's Attitudes Toward Being Greedy?"
David Chen, biology, sophomore. Faculty mentor: Xianglin Shi. Project title: "Exposure to Chromium (VI) Enhances the Motility of Colorectal Cancer Cells Through Activation of FAK."
Christopher Kositzke, biology, junior. Faculty mentor: Ricardo Bessin. Project title: "Development of an Innovative Cucumber Beetle Monitoring Trap."
Sarah Mac, biology, senior. Faculty mentor: Carissa Truman. Project title: "Evaluating the Ability to Detect Calving Time in Dairy Cattle Using a Precision Technology That Monitors Tail Movement."
Emily Major, agricultural biotechnology, junior, and co-presenter Kara Tauer, agricultural biotechnology and chemistry, junior. Faculty mentors: Luke Bradley, Robert Houtz and Roberta Magnani. Project title: "Development and Characterization of a Model Post-Translationally Modified Protein Library."
Honour McDaniel, public health, senior. Faculty mentor: Corrine Williams. Project title: "Preliminary Analysis of Male Perceptions of Reproductive Coercion."
Amelia Metz, nursing, senior. Faculty mentors: Janie Heath, Joel Anderson and Karen M. Butler. Project title: "E-cigarette and Marijuana Safety: Nurses' Perceptions."
Madelyn Miles, human health services, junior. Faculty mentor: Sarah Kercsmar. Project title: "Understanding Government Influence on Healthcare Legislation."
Israel Mullins, animal science, junior. Faculty mentors: Jeffrey Bewley and Carissa Truman. Project title: "Validation of an Automated Body Condition Scoring Camera for Dairy Cattle."
Adam Nolte, geology, senior. Faculty mentor: Junfeng Zhu. Project title: "Sinkhole Mapping of Woodford County, Kentucky, Utilizing LiDAR."
Connor VanMeter, agricultural biotechnology and computer science, senior. Faculty mentor: Rebecca Dutch. Project title: "Role of Human metapneumovirus Phosphoprotein domains in the viral lifecycle."
Joseph Walden, psychology and neuroscience, sophomore, and co-presenter Cristin Sullivan. Faculty mentor: Rachel Farr. Project title: "Adopting Identities: How Socialization Varies Between Adoptive Families."
Jeremiah Wayne, biology and neuroscience, junior. Faculty mentors: Kathy Brewer and Matthew Gentry. Project title: "Personalized Diagnosis for Lafora Disease, a Fatal Epilepsy."
UK is the University for Kentucky. At UK, we are educating more students, treating more patients with complex illnesses and conducting more research and service than at any time in our 150-year history. To read more about the UK story and how you can support continued investment in your university and the Commonwealth, go to: uky.edu/uk4ky. #uk4ky #seeblue