By Megan Foltz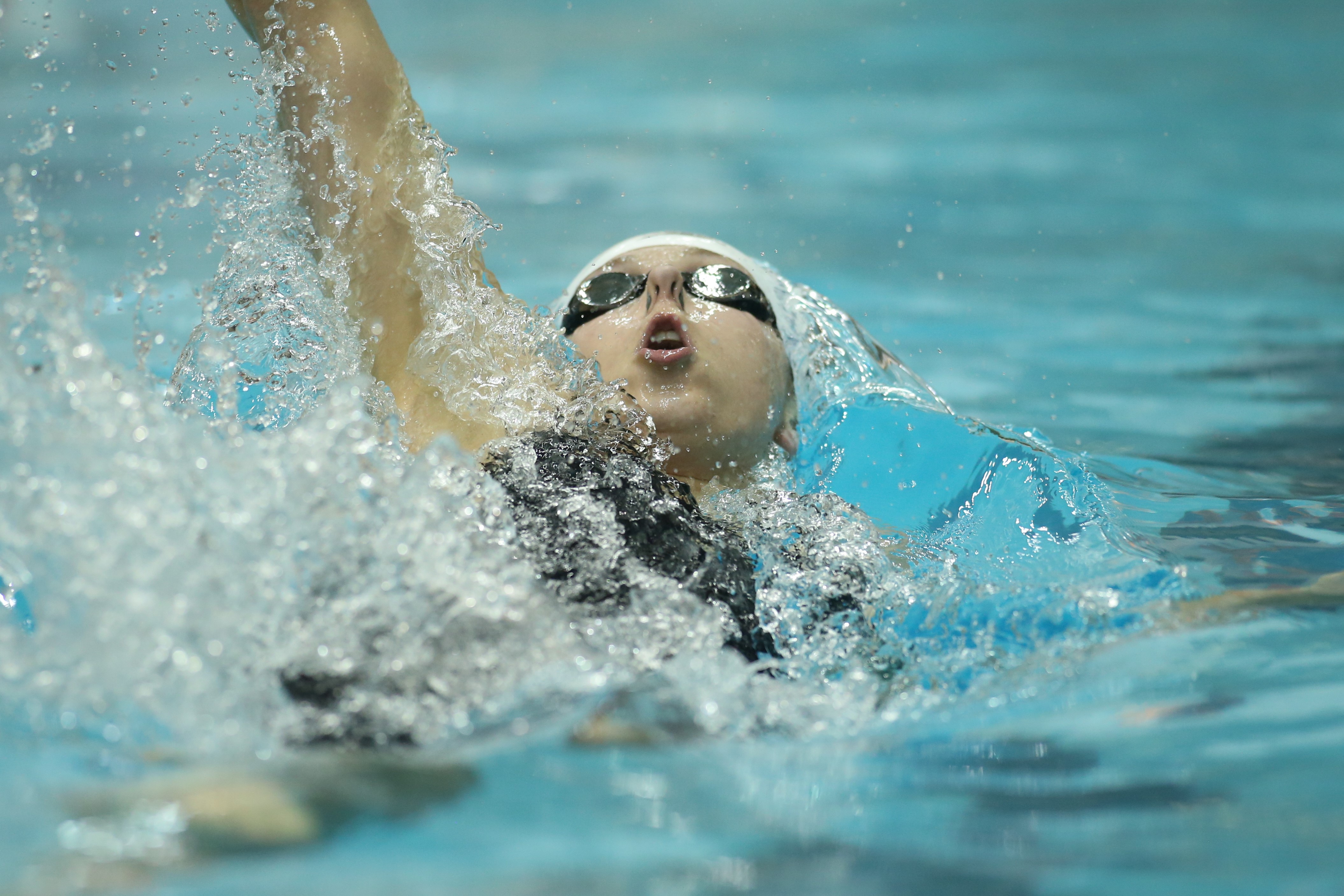 Danielle Galyer competed on Kentucky women's swimming and diving team. Photo courtesy of UK Athletics.
Growing up in Greenville, South Carolina, Danielle Galyer did not realize how prominent swimming was in her home state. However, the tough competition didn't stop her from excelling. She began swimming at the age of 6 and just nine short years later at the age of 15, Galyer competed in her first Olympic trials.
"It was really good for me to go the first time and get the stress level of it all out of the way. It's a really good experience because it is the elite of the elite," she said.
With a strong work ethic and sense of commitment instilled by her parents, Galyer decided to attend the University of Kentucky on a swimming scholarship. "It was the one place I felt like I could see myself spending four years of my life because it was such a good family-feel," she said.
Galyer, a psychology and political science senior who graduated this May, helped the Kentucky women's swimming and diving team place third at the Southeastern Conference Championships this year, just one of many accomplishments she has earned during her time at UK. Galyer is a two-time recipient of the NCAA's Elite 90 award; was recognized as SEC Scholar-Athlete of the Year for both her sophomore and junior years; was named to the SEC Community Service Team last year; and last week was named to the College Sports Information Directors of America Academic All-America At-Large First Team for the second consecutive year.
Galyer has competed in the U.S. Olympic trials twice during her career. In 2016, she was a qualifier and finalist, finishing fifth overall in the 200-meter backstroke amongst the most elite swimmers in the country. Also in 2012, Galyer became the first swimmer in UK history to win an NCAA National Championship, swimming the 200-yard backstroke in a school-record time of 1:49.71 — the sixth-fastest swim in American swimming history.
Out of all of these recognitions, the Elite 90 award is Galyer's favorite. "I think the Elite 90 is what collegiate athletics is about. I really want to make a difference in the world and succeed in life outside of the pool, and swimming has done everything for me to get me there," she said.
The Elite 90 award is presented on an annual basis to the outstanding individual who has competed at the championship level of his or her sport and has the highest cumulative grade-point average. This past year marks the fifth consecutive Elite 90 award received by any Kentucky team, and Galyer has been awarded this honor twice.
With her time at UK finished, Galyer is incredibly humbled by her extraordinary accomplishments.
"I owe everything to my parents, my teammates, the coaching staff and the staff members at CATS," Galyer said. "The UK swimming and diving team is a life-long family where everyone contributes something. Our coaching staff is amazing! They gave us the opportunity to be leaders from the very beginning."
Galyer also cherishes the opportunity she had to swim beside her teammates and friends, including her sister, who joined the team this past year.
"I got to swim next to my sister in my last race during NCAAs and that is something I will remember for the rest of my life," she said.
As she steps out of the pool and into the next phase of her life, Galyer is most excited about gaining new experiences while pursuing a law degree at the University of Florida.
"I look forward to new experiences and finding myself in a way that is not completely related to swimming. I don't regret swimming at all, but one of the things I missed the most is studying abroad, so I really want to do that in law school. Then my educational wishes will be complete," she said.
Although Galyer is moving on, the impact she has left on UK and the swimming program will live on.
"College is a time to discover who you are and what your path through life will be," she said. "Take time to find the things you are passionate about and dive into them headfirst."
UK is the University for Kentucky. At UK, we are educating more students, treating more patients with complex illnesses and conducting more research and service than at any time in our 150-year history. To read more about the UK story and how you can support continued investment in your university and the Commonwealth, go to: uky.edu/uk4ky. #uk4ky #seeblue