The Graduate Training Programs in Psychology  at the University of Kentucky are committed to recognizing the diverse multicultural environment in which we live.  We value the dignity and worth of individuals without regard to gender identity or expression, ethnicity, race, sexual orientation, religious beliefs, political beliefs, or socioeconomic status.  We strive to be sensitive to cultural issues and to continue to expand our cultural competence through the creation of a respectful environment and ongoing diversity education.  We believe that our training program benefits from a commitment to recruiting, maintaining, and supporting diverse students and faculty.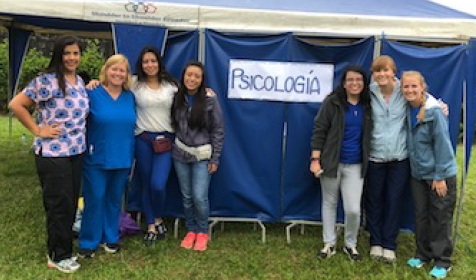 UK Clinical Psychology Doctoral Students traveled to Ecuador with Associate Director of Clinical Training Dr. Mary Beth McGavran to collaborate with psychology trainees from the Universidad de las Americas to provide psychological services to predominantly Spanish speaking, underserved communities. Their work was part of an interdisciplinary health brigade through Shoulder to Shoulder Global. 
Initiatives and Resources
UK is committed to providing an enriching experience for all students, faculty, and staff by actively exploring and adopting new initiatives that will expand both the diversity and inclusivity of our campus community. Click on the links below to explore some of the robust resources, centers, and initiatives aimed at promoting diversity and inclusion.
Funding 
There are several fellowship and grant opportunities available to graduate students that are designed to enhance the professional development and training of scholars from underrepresented backgrounds. 
The following additional resources may be useful for students who are interested in applying to our program and for students in our program.
We are institutional members of the Society for Black Brain and Behavioral Scientists.  
We are proud to share that UK ranks among the top 25 campuses in the nation for LGBTQ* inclusion and safety.