Professor Jonathan Golding, No Ordinary Career Counselor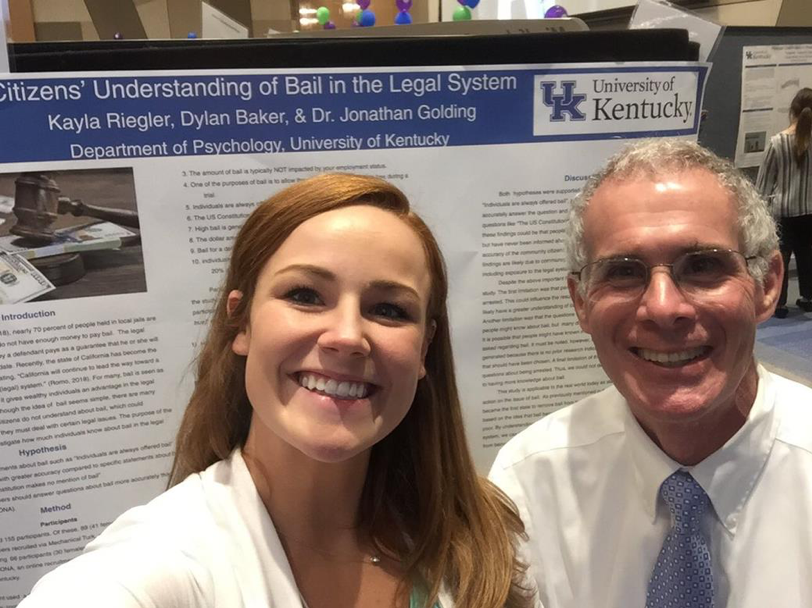 By Julie Wrinn
Jonathan Golding joined the UK Psychology Department in 1988 and has been an active researcher ever since, achieving full professorship for his investigations into legal decision-making and various aspects of memory, specifically in juror decision-making in victimization cases. A legendary teacher, he has received numerous teaching accolades, most notably Kentucky Professor of the Year (2011) and the Alumni Association's Great Teacher Award (2014).
Where Golding has arguably had the biggest impact at UK, however, is in career counseling, especially for undergraduate psychology majors. After decades of devoting himself to mentoring undergraduates and guiding their career explorations, he began realizing that the possibilities for psychology majors had grown so tremendously that it was impossible to cover the material in a single advising session. Golding explained, "I went out and learned about a lot of career information I could provide to psychology majors, but when it was time to meet with a student for advising, I just didn't have the time to get through everything."
With his postdoc at the time, Dr. Anne Lippert, Golding established a website that psychology majors can browse to assist in their career plans. Named for Lippert's beloved golden retriever, ScoutiesCareersinPsych.org is a treasure trove of resources and advice for psychology students. There you can survey nearly 20 career categories requiring a psychology degree, learn about average salaries, find tips for applying to clinical Ph.D. programs, understand how to get involved in research, and peruse dozens of "Important Steps" checklists for various pathways, e.g., "Important Steps to Sports Psychology Careers that Require a Bachelor's Degree in Psychology."
In addition to this website, Golding has a wide-ranging social media presence. "I learned from my students that one of the best ways to connect with them was on the Internet, and there are many ways to do this," he said. Golding's social media sites include a careers blog in Psychology Today; a Twitter account (@scoutiespsych) devoted to careers in psychology; a Linkedin account connected to many alumni where he lists career-related information; an Instagram account (scoutiescareersinpsychology); and a Facebook page (Scouties Careers in Psychology).
More recently, Golding has branched out to offering advice not only to psychology students but also to all college students on how to be successful in college and make the most of their opportunities there. He said, "Over the years, I kept seeing students who needed advice on the basics of being a college students—things like going to class, taking notes, studying—so I decided to develop different ways to help students in college." Golding's college-success outlets include a Word Press account (https://beginnersguidetocollegesuccess.com/); an Instagram account (goldingcollegesuccess); and a 2018 book, Beginners Guide to College Success, co-authored with UK psychology professors Philipp Kraemer and David Royce. One category of college success that Golding highlights in this book is how to succeed in large classes. Writing this chapter inspired another book, this time addressed to professors: Strategies for Teaching Large Classes Effectively in Higher Education, published in 2019 and co-edited with Catherine Rawn and Kathi Kern, who is Associate Provost for Teaching, Learning, and Academic Innovation at UK.

Psychology has traditionally been one of the most popular majors in the College of Arts & Sciences, and it remains so today. Thanks to the wide-ranging expertise of Jonathan Golding and his tireless commitment to undergraduate student success, psychology students at UK are being exposed to some of the most comprehensive and insightful career advice that they are likely to find at any university. A crucial component of this advice, however, is real world examples, and we welcome alumni who are using their Bachelor's in Psychology in interesting ways to return to campus and speak to our majors about their own career path. To start a conversation about ways to further connect with the Department and visit with our students, please contact Philanthropy Officer Teresa Gotthardt at 859-218-5551 or teresawg@uky.edu."