History and Development of The Harris Center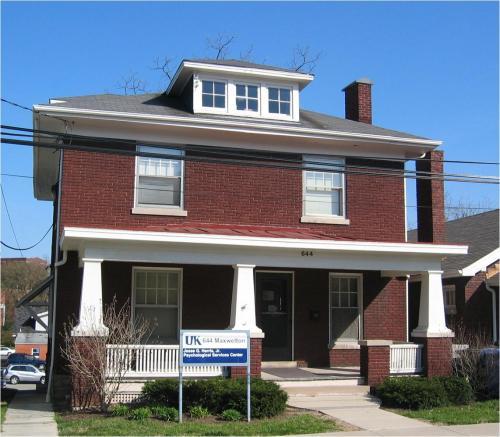 The University of Kentucky Clinical Psychology doctoral program has continuously offered low-cost, high quality psychological services to the Lexington community since 1976.
Initially called The Psychological Services Center, this clinic was housed in the basement of the UK Psychology building, Kastle Hall. In September, 1979, the center moved to a small house at 441 Pennsylvania Avenue. Evening hours were added at this time.
In 1980, the center began year-round operation, and began seeing child clients. The clinic began offering psychological assessments in 1982. Also, clinical faculty and graduate students began cunducting research projects involving clients as participants at this time.
Undergraduate psychology majors began working as clinical assistants, and this popular experiential internship program continues today. In the mid-1980's, local psychologists became the first "community supervisors," giving clinical psychology doctoral students exposure to a wider variety of supervisory styles.
Following his death in 1988, the center was renamed the Jesse G. Harris, Jr. Psychological Services Center (the Harris Center), after the former Psychology Department chair and faculty member. In October, 1989, the center moved to a new facility in a larger building at 644 Maxwelton Court, its current location.
In the early 1990's, a series of continuing education workshops and conferences were sponsored by the center and the Department of Psychology. Continuing education workshops today are co-sponsored by the Harris Center and the Kentucky Psychological Association.
In 1992, the first children's social skills groups were offered. An after-hours call system for center clients and crisis intervention training for therapists were instituted.
An arrangement with the UK Department of Psychiatry allowed the Harris Center to offer psychiatric consultation and medication services by UK Psychiatry residents, beginning in January, 1994.
In the mid-1990's, the center launched its Dialectical Behavior Therapy (DBT) program for treatment of borderline personality disorder. The DBT program remains one of the center's signature programs, receiving referrals from throughout the region.
Also at this time, the Harris Center began contracting to provide psychological assessments for local agencies and companies . A programmatic emphasis on using evidence-based treatments was enhanced by acquiring various psychotherapy treatment manuals and resource materials.
In 2000, the Harris Center instituted a Scientist-Practitioner Award for graduate students demonstrating excellence in the provision of empirically-supported clinical practice. In 2002, the center launched its own website. 
In 2004, new programs began including a relationship-focused group conducted at the Hope Center women's substance use recovery program, and a children's managing frustration group. A current popular program is the "Happy Healthy Kids" class which teaches various coping and relationship skills to elementary school-age children. 
Graduate students have had opportunities to conduct outcome research with center clients and have participated in standardization trials of revisions of well-established psychological assessment instruments.
The Harris Center encourages therapists' involvement in the Kentucky Psychological Association and actively supports KPA conferences and programs. One of the "heads" from KPA's award-winning "Heads Up Kentucky!" public art and education project is displayed in the center's foyer.
In 2010, the Harris Center began conducting pre-employment psychological evaluations of firefighter recruit candidates for the Lexington Fire Department. Currently, these assessments are done for both the Lexington and Nicholasville Fire Departments. 
Recent programmatic improvements have included installation of an electronic health record system and a research-based program to measure progress and outcomes in therapy.
In response to the COVID-19 pandemic, the center began offering telehealth services including therapy and psychological assessments. The center is now able to offer both in-person and telehealth services.  
The Harris Center has now provided excellent graduate student training and high quality services for over 45 years. The center remains committed to its primary missions of providing excellent training and research opportunities to clinical psychology doctoral students, and affordable and effective mental health services to the Lexington community.