By Rebecca Stratton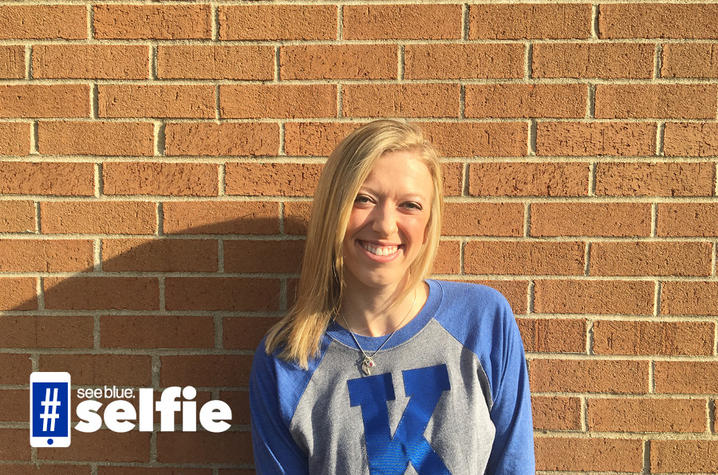 Want to get to know the people behind some of the biggest student leadership positions on campus? We did, too! That's why we've introduced "see blue." #selfie — a series on UKNow that lets student leaders from across campus tell us a little bit more about themselves and their organizations. Up this week, College Mentors for Kids President Maddie Conrad
Meet Maddie Conrad, this year's president of the University of Kentucky's College Mentors for Kids. A senior psychology major and neuroscience minor, Conrad claims she always enjoyed working with kids but truly found her passion as she got involved with College Mentors once she got to UK. Conrad has mentored more than 100 students through this program! Learn more about Conrad in her "see blue." #selfie!
UKNow: What year are you and what is your major?
Maddie Conrad: I am a senior, and I am a psychology major and a neuroscience minor.
UK: Where are you from?
MC: Cincinnati, Ohio.
UK: Tell me about your position in College Mentors for Kids.
MC: I am president of College Mentors. I oversee a lot of people. I have five vice presidents that I work with very closely. In the fall is when we do our recruitment. I conduct interviews and reach out and coordinate and train all staff and mentors. When the buddies come, I go through all the rules. We have a national office and I work closely with my national counterpart. She has helped me a lot! We have worked closely over the past two years. I basically oversee the daily operations and I hang out a lot with the kids.
UK: When did you become involved with College Mentors?
MC: I was a mentor my freshman year and a general manager my sophomore year. I've been president the past two years. It's been one of the highlights of my college career! I have had a lot of opportunities and I do a lot with the kids.
UK: What does this organization do? 
MC: We work with Breckinridge and Harrison Elementary three days a week — Tuesday, Wednesday and Thursday. Each kid has one student mentor for a year. The kids come to campus, go to White Hall and eat a snack and then have activities. For activities, we have guest speakers or make up our own activities. We don't do tutoring, just time for the kids to hang with their mentors. A lot of kids are potential first generation college students. Mentors and staff talk to them about things to do at UK, majors and interests. One time, they did a tour with the student athletes and the kids had no idea they could go to school to play a sport. I'll never forget that day because one of the kids who loved soccer jumped up with joy because he had no idea! This is exposing them to a college campus and all college has to offer. We work with kids second through fifth grade.
UK: How many kids have you mentored?
MC: I had one little buddy my first year, then as general manager I had about 10. I was the go-to for what they were doing each day when I was general manager. I would say, overall, I've mentored more than 100 students. We got a lot of new kids this year. I try to go to every activity day and they get really excited to tell me when they do things at school.
UK: When did you begin having a passion for kids and mentoring? 
MC: I have always really liked working with kids. It wasn't until College Mentors that I really found that passion. My little buddy I had as a freshman was the most resilient person I have ever met, and there were things she told me that I would have never thought someone that young would be going through. It taught me to look at the world in a different perspective and it has completely changed my outlook on life. She was the person that altered my view of the world! A lot of mentors say that they had no idea their buddy was going to teach them so much.
UK: Are you involved in anything else?
MC: I am in a sorority. I'm a Pi Phi. I wish I was involved in more things, but College Mentors has been my thing so it's what I put all my energy into because these kids have a special place in my heart. I have also volunteered at Chandler Hospital for the past three years in patient transport and in the lab.
UK: What brought you to UK?
MC: It sounds cliché. I didn't visit a ton of college campuses, but UK was the only campus I felt at home. Everyone I interacted with on my tour was so genuine and so nice. I loved it here!
UK: Do you plan to continue working with kids once you graduate?
MC:  I would love to go work at the national office, but it depends on other things going on in my life. I don't know what it would be, but I foresee myself trying to stick with the ideas behind College Mentors.
UK: Have you had one moment during College Mentors that you will always remember?
MC: I think the one memory that sticks out the most was one of our first activities this year where we gave the kids fake majors. We took them on a campus tour and we took them into buildings and showed them lecture halls. We told them about each major and after that day so many of the kids were talking to their mentors about what they wanted to be when they grew up. They were so excited! I feel like that day they changed the way they saw school and life as they learned what a typical college day was for us. They also didn't understand why we don't get recess.
UK: Do you have any advice you would give an incoming freshman wanting to get involved with College Mentors? 
MC: We're always trying to recruit people. I would say to follow us on social media. In the fall when we take applications, we will post that and interviews on our social accounts. If you know someone involved, reach out and let them know. Also, apply early! We do interviews mid-September. We have spots open up throughout the year but nothing is guaranteed.
UK: What's your most used emoji?
MC: As annoying as it seems, the eye-rolling emoji.
UK: If you had a memoir about your life, what would the title be?
MC: My favorite thing to say is "I'm just here to have fun." I try to have fun everywhere I go. Life is what you make it! That's my motto.
UK: If you could have any super power, what would it be?
MC: To get places super-fast, so I could go home and visit more and visit my friends.
UK: What is the best gift you've ever received?
MC: When I was a senior in high school, my grandma made me a handmade quilt. I used it on my bed freshman and sophomore year. She passed away right before I came to school. That's one of my most cherished gifts.
UK: What is your dream job? 
MC: I don't know what it is, but I know I love medicine. That's my focus. I really wanted to work with kids from lower income as well. I don't know what that job would be. I plan on going to PA school too!
"see blue." #selfies will appear every other Tuesday on UKNow. Know a student leader we should feature? Contact Rebecca Stratton at rebecca.stratton@uky.edu to nominate someone.
UK is the University for Kentucky. At UK, we are educating more students, treating more patients with complex illnesses and conducting more research and service than at any time in our 150-year history. To read more about the UK story and how you can support continued investment in your university and the Commonwealth, go to: uky.edu/uk4ky. #uk4ky #seeblue