SONA - Subject Pool
For more information, please click to watch the SONA Welcome Video below: 
What is SONA and the Subject Pool?
The Subject Pool is the term that we use for a group of PSY 100, 215, and 216 students who are willing to participate in research studies as a part of their educational experience. Our faculty, graduate students, and other advanced-level students conduct research experiments and collect data from the participants of the pool in order to further our understanding of human behavior. SONA is the online system that we use to manage the Subject Pool. This is where studies are posted, and participants can login to learn more about the studies, and sign up to participate in the studies they find interesting.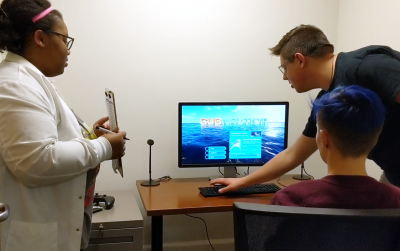 Why this is important?  
All students enrolled in PSY 100, 215, and 216 are required to gain experience with empirical research. This requirement is intended to introduce you to the wide variety of research being conducted in the Department of Psychology at the University of Kentucky. It is our intent that these studies will ultimately benefit others in society, however, we hope that serving as a research participant benefits you as well. One of the best ways to gain experience is to be involved in ongoing research experiments. Participating in research studies at UK will enable you to experience a variety of research methodologies, and you will become a better consumer of research literature. In addition, you'll become acquainted with our professors, graduate students, and other advanced students who are actively contributing new findings to the field of psychology. Finally, we hope you find the studies to be interesting, and we hope it inspires an interest in psychological research.
 Is it safe?
All studies eligible for SONA credit have been reviewed by the Institutional Review Board at the University of Kentucky, meaning that a group of experts other than the researchers involved have determined that the research procedures meet strict ethical guidelines. You will not be asked to do anything that is obviously harmful or dangerous; rather, most studies will ask you to complete a simple task or answer questions and give opinions. In addition, researchers will explain the experimental procedures and ask for your consent prior to beginning your participation. If you find the procedure objectionable, you may choose not to participate with no penalty. You are also free to stop participating at any time during the study if you become uncomfortable.
Credit equivalencies & requirements
If you are enrolled in PSY 100, you are asked to complete six (6) hours of research exposure. PSY 215 and 216 students must complete 4 hours. If you are enrolled in two of these courses at the same time, you must meet the requirements for both courses. For example, if you are enrolled in PSY 215 and PSY 216 in the same semester, you have 8 required hours of research exposure for that semester. Only half of your earned credits can be through online studies.
You can earn 1 hour for participation in a "screening" survey that involves filling out psychological questionnaires online. You will need to participate in this survey if you intend to participate in face-to-face or online studies. If there are enough experiments available, you may complete your other credit hours by volunteering as a participant in experiments. However, if there is a shortage of experiments, or if your schedule makes it difficult for you to attend experimental sessions, or if you are uncomfortable with participating in research, you should complete some or all of the credit requirements by completing one or more of the alternative assignments.
Registering with SONA
In order for your research credits to be applied to your course grade, you MUST be registered in the SONA online system. This includes credits for the "screening" survey, face-to-face and online studies, and alternative assignments. WE CANNOT RECORD YOUR RESEARCH PARTICIPATION CREDITS IF YOU HAVE NOT REGISTERED. Therefore, it is important that you register as soon as possible.  
For detailed information on registering your SONA account and signing up for studies, please see the For Participants and FAQ's pages.
Complaints about a study
If you have any complaints about a study, please contact the study's Principal Investigator (PI). You can find this information by going to the study description in SONA, or by finding the name and contact information on the consent form or debriefing form. If you do not receive a response from the PI, or you are not satisfied with the response, you can contact the SONA Administrator at uksubjectpool@gmail.com.
Contact information
If you have any questions about completing the research exposure requirement, please first look at the FAQ's page, as many questions can be answered there. If you still have questions, contact the Subject Pool Administrator:
Name: Meagan Coomes
Email: uksubjectpool@gmail.com
Office hours: By appointment
Office: 106B Kastle Hall