For more information, please click to watch the
SONA Welcome Video

below: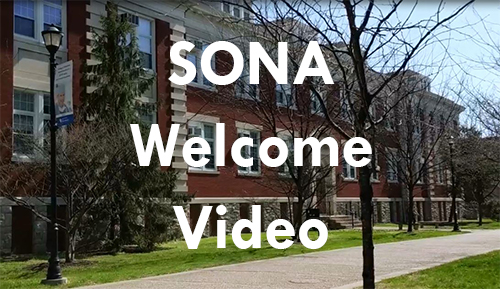 Sona Login Link
(If you are new to SONA and have never registered before, see the instructions below or at the
For Participants/Students page
)
What is SONA and the Subject Pool?
The Subject Pool is the term that we use for a group of PSY 100, 215, and 216 students who are willing to participate in research studies as a part of their educational experience. Our faculty, graduate students, and other advanced-level students conduct research experiments and collect data from the participants of the pool in order to further our understanding of human behavior. SONA is the online system that we use to manage the Subject Pool. This is where studies are posted, and participants can login to learn more about the studies, and sign up to participate in the studies they find interesting.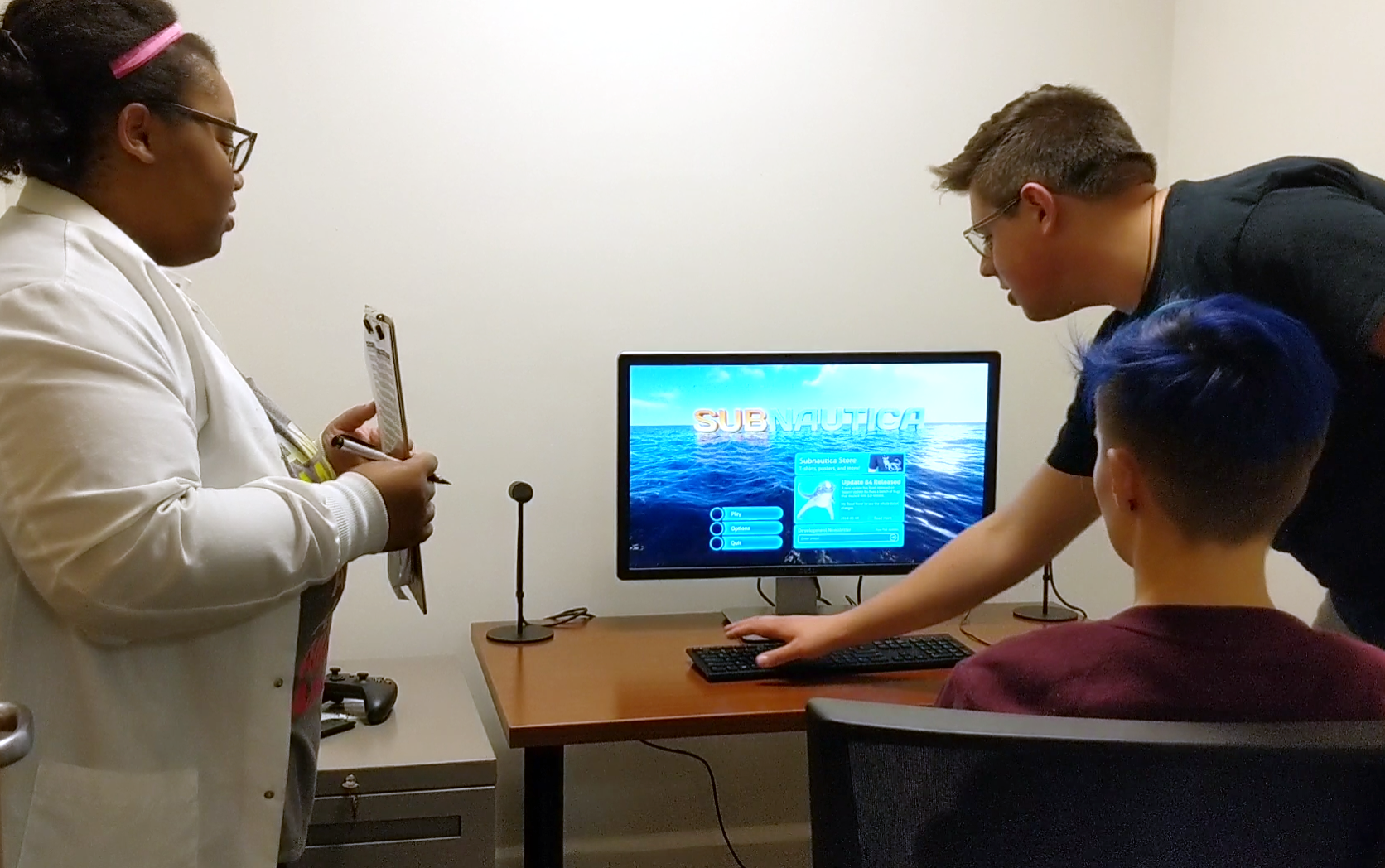 Registering with SONA
You MUST be registered in the SONA online system. This includes credits for the "screening" survey, face-to-face and online studies, and alternative assignments. WE CANNOT RECORD YOUR RESEARCH PARTICIPATION CREDITS IF YOU HAVE NOT REGISTERED. Therefore, it is important that you register as soon as possible.  
To register, you must have a reliable and working email address as well as internet access. It is VERY IMPORTANT that you use your university account (i.e., the address that ends with uky.edu). Follow the steps below for registration:
Navigate to http://uky.sona-systems.com/
Click on "Request an account here", and fill out the form provided
Your User ID is the part of your UK email address before the @ symbol.
Use the digits of your student ID number, but remove the leading "9".
Once you've registered, a password and logon ID will be sent to your email account within several minutes from the Webmaster (i.e., the Subject Pool Administrator). If you do not receive this email, an error may have occurred. Contact the Subject Pool Administrator immediately to correct the problem.
* Be sure to check your Spam/Junk email folders, and configure your email filters to accept emails from uky-admin@sona-systems.net.
Requirements & credit equivalencies
NOTE: Due to COVID-19, there are no in-person study requirements and may be none available. 
For PSY 100:
If you are enrolled in PSY 100, you are asked to complete SIX (6) hours of research exposure.  
You can receive one (1) credit by filling out the screening survey during the first two weeks of the semester. 
Remaining credits can be gained by participating in research studies, or by completing alternative assignments. 
For PSY 215 or 216:
If you are enrolled in PSY 215 or 216, you are asked to complete FOUR (4) hours of research exposure. 
You can receive one (1) credit by filling out the screening survey during the first two weeks of the semester. 
The other credits can be gained by participating in online studies. 
Or the other credits may be earned by completing alternative assignments
What if I am enrolled in more than one of these courses? 
If you are enrolled in two of these courses at the same time, you must meet the requirements for both courses. For example, if you are enrolled in PSY 215 and PSY 216 in the same semester, you have 8 required hours of research exposure for that semester. 
PSY 215 + PSY 216 = 8 credits required
What is the Pre-Screening Survey?
You can earn ONE (1) credit for participating in a "screening" survey that is posted during the FIRST TWO WEEKS of the semester. This survey involves filling out psychological questionnaires online. 
You should consider participaing in this survey if you intend to participate in research studies. 
You can fill out the pre-screening survey even if you do not wish to participate in follow-up studies.
When should I complete the studies?
As soon as possible. Why?...
The Pre-Screening Survey is available ONLY DURING THE FIRST TWO WEEKS OF CLASS. This is an easy credit to earn, so please be sure to take the survey within the first two weeks of class. 
Both online and in-person studies are posted by the researchers. Sometimes there will not be enough studies posted for all students, so be sure to check the studies often and sign up for studies that you are qualified for, are interested in, and that work with your schedule, before they fill up.  
Many students procrastinate and get into trouble if they delay completing alternative assignments. Please do not wait! Aim to complete 1-2 alternative assignments by midterm. 
What if I can't find any studies? 
If you find yourself in the following situations, please consider completing alternative assignments to meet your SONA credit requirements:
If there is a shortage of experiments posted on SONA
If your schedule makes it difficult for your to complete research
If you are uncomfortable participating in research experiments
Alternative assignments include reading and evaluating an approved article written by one of our department faculty, and then writing a 1-2 page article summary describing what you learned and answering a few questions. One research article summary is worth 1 credit hour of participation. For more information on Alternative Assignments, please click this link. 
*You must be registered with the SONA system in order to receive credit for the alternative assignments. 
Is it safe?
All studies eligible for SONA credit have been reviewed by the Institutional Review Board at the University of Kentucky, meaning that a group of experts other than the researchers involved have determined that the research procedures meet strict ethical guidelines. In addition, researchers will explain all experimental procedures and ask for your consent prior to beginning your participation. You are free to stop participating at any time during any study, or to refuse to complete any procedure, if you become uncomfortable.
**For more answers to frequently-asked questions, please look at the 

FAQ page
. 
Complaints about a study
If you have any complaints about a study, please contact the study's Principal Investigator (PI). You can find this information by going to the study description in SONA, or by finding the name and contact information on the consent form or debriefing form. If you do not receive a response from the PI, or you are not satisfied with the response, you can contact the SONA Administrator at uksubjectpool@gmail.com.
Contact information
If you have any questions about completing the research exposure requirement, please first look at the FAQ's page, as many questions can be answered there. If you still have questions, contact the Subject Pool Administrator:
Name: Tamra Nowitzki
Email: uksubjectpool@gmail.com
Office hours: By appointment
Office: 106B Kastle Hall