Amanda Hatton
Psychology Junior
by Sara Cunningham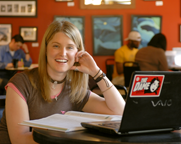 Amanda Hatton's honesty and passion shines as she talks about the challenges she's faced and how those challenges have shaped her goals.
"Five years ago, I had a big setback in my life," the psychology junior said.
On Aug. 9, 2003, Hatton and her boyfriend were in a serious car accident on their way out to her family's farm in Woodford County. Hatton's boyfriend was killed and Hatton was badly injured. She spent two months in a coma, Hatton said.
"I had a closed-head injury and when I did finally wake up, there was so much I didn't remember and I had to relearn how to do a lot," she said.
But Hatton said she found strength in her experience and in her family. She is the youngest of seven children.
"When my accident happened, I was a student at LCC and I had to take that fall semester off," she said. "I came back to school for the spring semester. I had to start slowly. I think I took just one class that first semester and then worked my way up to more."
About a year ago, Hatton transferred to UK to be a student in the College of Arts & Sciences so she could major in psychology.
"I had taken one class in psychology before my accident and I liked it," she said.
That initial interest turned into a mission for Hatton.
"I was really interested in psychology but I didn't know what part or really what I could do with it," she said. "But now I know that I want to be involved in clinical work. I want to be there for other people as they go through what I went through."
After she finishes her undergraduate work, Hatton plans to continue into a graduate program that concentrates on neuropsychology, she said.
"I want to maybe open my own practice that treats people who have closed head injuries," Hatton said. "I want to be able to give back to other people who are going through all of this."
Hatton's academic adviser, Theresa Mickelwait recently nominated Hatton for the Carol S. Adelstein Outstanding Student Award. The award recognizes students with disabilities who serve as inspirations for the UK community because of their academic excellence and leadership qualities.
"Something about her just struck me," Mickelwait said. "She has such a positive attitude – it's contagious."
Mickelwait said that when hears Hatton speak about her goals, her passion is evident.
"It's definitely nice to see students who have a vision or goal," she said. "It gets you excited for them and for what they'll do in their lives. I look at her and I know that she's going to be successful."
Hatton said that she feels like there is a lot of support for students within the A&S community.
"I feel that the A&S professors really care about how well we do," Hatton said.
She can't wait to use what she's learning to help others after she graduates, she said.
"When I woke up from the coma, I realized right away that I'd better make the most of my life because I was so grateful to still have my life," Hatton said. "I want people to understand that just because you have an injury like this, your life is not over. Mine sure wasn't. I'm just so happy to still be here."