Tillson and Gossett to Deliver December 2017 Commencement Addresses
By Jenny Wells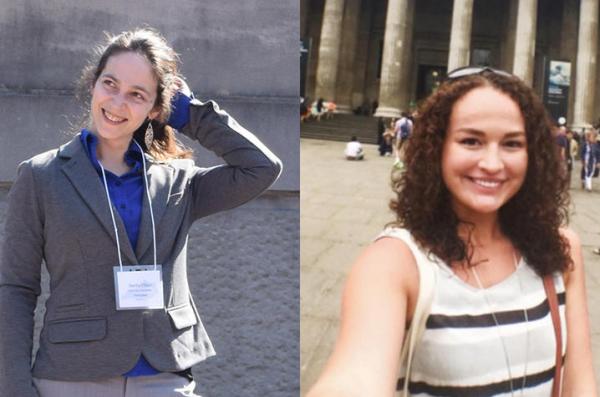 Martha Tillson (left) and Sarah Gossett will deliver speeches at the December 2017 Commencement Ceremonies Friday, Dec. 15.
In what has become a University of Kentucky Commencement tradition, two students have been selected to serve as speakers for the UK December Commencement ceremonies this Friday, Dec. 15. Because doctoral, master's and baccalaureate degree recipients are now recognized together based on their colleges, the selection committee accepted applications from students with all degree types, not just undergraduate students as in past years.
Martha Tillson will speak at the 10 a.m. ceremony and Sarah Gossett will speak at the 2 p.m. ceremony. Tillson and Gossett were selected among several candidates by UK President Eli Capilouto to represent the December 2017 graduating class.
Tillson, from Lexington, is graduating with bachelor's degrees in social work and psychology. As a non-traditional student, she works as a data coordinator and research assistant at the UK Center on Drug and Alcohol Research. She also works closely with her mentor Michele Staton, an associate professor in the UK College of Medicine, to conduct research at the undergraduate level on substance misuse, something she witnessed firsthand before coming to UK when hitchhiking across the country.
"I feel like the time that I was traveling and hitchhiking around the country exposed me to a lot of different issues, and substance misuse was definitely something that affected a lot of people," Tillson said. "So many people that I met and cared about have been affected by that issue and it felt like it was one of the factors that affected me the most strongly to come back to college and to finish my degree. I wanted to be able to make an impact in that area."
Tillson said she was at first intimidated at the idea of delivering the UK Commencement address, but was encouraged by Staton and Kalea Benner, director of undergraduate studies in the College of Social Work.
"I thought, if this is something that seems challenging to me, and this is something that kind of scares me, then I should probably do it, or at least try to do it, because that is what the past 10 years of my life has been," Tillson said. "For me, graduating is momentous. It has taken me 13 and a half years. So I am really excited for this opportunity."
After graduation Tillson plans to continue working at the UK Center for Drug and Alcohol Research, and will eventually pursue a master's or doctoral degree program.  
Gossett, from Taffy, Kentucky, is graduating with a degree in integrated strategic communication from the UK College of Communication and Information, with a minor in political science and a certificate in global studies. While at UK, Gossett has served as vice president for membership programming for Alpha Chi Omega sorority, a Student Government Association (SGA) senator for the College of Communication and Information and co-founder of Grehan Associates, a student-run communications agency. She is also a member of the Public Relations Student Society of America, the Student Leadership Council for the College of Communication and Information, the SGA Leadership Development Program and the Wellness Living Learning Program. Gossett also took part in UK Education Abroad, traveling to Cape Town, South Africa; Beijing, China; and London, England.
"I've had some unique experiences, both good and bad, that have helped me become wiser when it comes to handling the ups and downs of life," said Gossett, who reflects on her late father in her speech. "I feel like a lot of graduation speeches focus on pushing yourself and having the drive to be successful, but it's important to also be reminded that sometimes bad things can and will happen, and it's what you make of it that molds you into who you are becoming. Also, I felt like this was a great way to do something in memory of my dad. He was thrilled to hear that I was going to UK, so it's hard to know that he won't be there for the big moments anymore."
After graduation, Gossett plans to work full time and eventually pursue a job in international public relations, or attend Officer Candidate School for the Army.
More than 1,000 students are expected to participate in Friday's ceremonies. Overall, 1,797 undergraduate and 956 graduate and professional degree candidates had their degrees approved by the UK Board of Trustees. The December Commencement ceremonies are as follows: 
10 a.m.: College of Agriculture, Food and Environment; College of Education; College of Engineering; College of Fine Arts; College of Medicine; College of Social Work; College of Public Health; College of Pharmacy; Martin School of Public Policy and Administration; Patterson School of Diplomacy and International Commerce
2 p.m.: College of Arts and Sciences; Gatton College of Business and Economics; College of Communication and Information; College of Design; College of Health Sciences; College of Nursing
Both ceremonies will be live streamed on UKNow.
For more information about the December 2017 Commencement Ceremonies, visit www.uky.edu/Commencement. 
UK is the University for Kentucky. At UK, we are educating more students, treating more patients with complex illnesses and conducting more research and service than at any time in our 150-year history. To read more about the UK story and how you can support continued investment in your university and the Commonwealth, go to: uky.edu/uk4ky. #uk4ky #seeblue