Earth & Environmental Sciences Undergraduate Trevor Strosnider
by Sarah Vos
For work this summer, Trevor Strosnider, a junior majoring in geology, donned a hard hat and descended into a Nevada gold mine. He identified rocks and fault lines, measured how far mining tunnels had been extended and used that information to help the Newmont Mining Corporation find gold.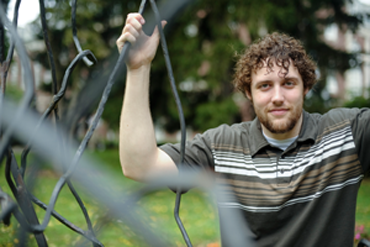 Before he left for Nevada, Strosnider had no idea what he would be doing at the mine. He learned of the internship after a representative from Newmont, one of the world's largest gold producers, made a presentation at UK. A professor encouraged him to apply, even though Strosnider didn't think he was qualified. He had studied geology at UK, but did not specialize in gold mining and mineral extraction.
But a few weeks later the offer came: $20 an hour, 40 hours a week, to work in the company's Nevada mines. The opportunity was much better than his previous summer job – pushing carts at Wal-Mart for $7 an hour – and it afforded Strosnider an opportunity to go west of the Missouri River for the first time. So after classes ended, Strosnider drove to northern Nevada to small town called Elko, where Newmont operates two mines in a geologic formation called the Carlin Trend.
Strosnider worked for the Leeville underground mine, which lies 1,400 to 2,100 feet below the surface. To get to work every morning he caught a bus to the mine site at 4:45 a.m., arriving at the site around his 6:00 a.m. starting time. He wouldn't get back to the parking lot until after 5 p.m. But long days meant he had three-day weekends: Friday to sleep and Saturday and Sunday to explore the rocks above the ground. Strosnider spent the first half of his internship traveling to a warehouse, where he examined two-foot sections of rock – core samples that had been taken from the Leeville mine. It was Strosnider's job to test the rock's carbonate and silica content, helping other geologists identify where gold might be. The gold deposits in the Leeville mine are not visible to the naked eye; the gold has to be extracted. One ton of rock might generate 0.1 ounce of gold, Strosnider said.
In other mines, geologists have identified where gold is found – based on the mineral content of the rock. But the Leeville mine, which opened in 2006, is still a mystery. "They still hadn't figured out what was controlling where the gold deposits were," Strosnider said.
Strosnider's findings were entered into a database that geologists used to create a 3-D model of the mine, its rocks and its tunnels. The information helped identify where gold might be, helping to direct the mining operations.
For the second half of the internship, Strosnider worked in the mine itself after undergoing mandatory training from the Mine Safety and Health Administration. On those days, he started out in an office, using shifts' reports to identify which tunnels had been "advanced" with explosives. Then, he would take an elevator into the mine to look at the rocks that had been exposed and record what he found.
Strosnider had to visit seven to 15 headings a day. The headings were never next to one another, and often routes from one to the next were blocked because miners were at work, making it easy to get lost in the mine.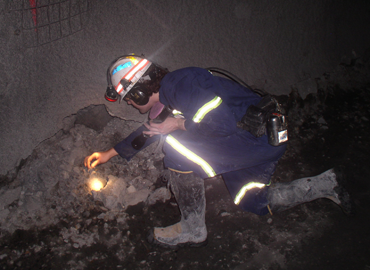 Geologists were not allowed to hold up production, Strosnider said. By the end of the internship Strosnider didn't get lost often, but his fellow geologists played tricks on him. "They got to the point where they were trying to throw me off," he said.
Once above ground, Strosnider would enter his findings into a computer, making sure the reality of the rock matched up with the 3-D map of the rock. It never matched perfectly though, and Strosnider would have to then figure out where it was wrong. That information helped the geologists predict where the gold might be and decide which rock to process as gold and which to throw away.
Strosnider grew up in Henderson, Ky. He's always collected rocks, but he didn't consider majoring in geology until college. The major has suited him well. He likes the field work he does in his classes and what he learns about the earth from rocks. He enjoys that geology brings several fields together ­­– chemistry, physics and natural history – to explain the world around him.
"I like to see how the earth is put together and how everything interacts together," he said.
Strosnider took the internship, in part, to see if he liked working as a geologist, and he did. He plans on going back next summer and may try to work for Newmont after he graduates. Geologists, fresh out of college, can earn $60,000 to $70,000 a year, working for a gold mine, and there's lots of opportunity to move up within the company, he said.
In Nevada, Strosnider saw that what he had learned in his classes was critical to the work he did.
"People in the industry treat it like its stuff you should know," Strosnider said.
The other geologists were impressed with how much experience he had with field work, even though he only had two years of college, and the textbook geology he had learned made it possible for him to participate in the geologic conversations. photos by Shaun Ring mine photo coutesty of Trevor Strosnider