UK STAR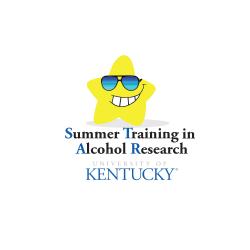 Summer Training in Alcohol Research
Thanks to our 10 outstanding trainees from 2017.
Heupel, Kylie
Kazimir, Kristina
Hazelwood, William
Valdes Lastre, Gia
Aldridge, Lane
Pierce, Allyson
Rainer, Ivanka
Schwartz, Gillian
Larson, Robert
Beverly, Arianna
Stay tuned for more information about the 2018 application deadline.
The University of Kentucky offers a 10-­week, paid laboratory experience for talented undergraduate students interested in gaining research experience in alcohol-­related disorders such as alcoholism, fetal alcohol syndrome, cancer, and pain. This is a competitive program designed for students considering a career in a science, technology, engineering or math-­related fields, but especially graduate study. Opportunities range from applied psychological approaches in humans to basic cellular mechanisms of alcohol action in cell culture. Students will spend the summer performing independent research under the supervision of faculty mentors, graduate students and postdoctoral fellows, give a scientific presentation that describes their accomplishments, and have the opportunity to contribute to front-­line research in either of these areas.
Directors - Dr. Mark Prendergast and Dr. Kimberly Nixon
TO APPLY, click here
Click here to download a UKSTAR recommendation form (applicant must complete the first section, then request recommending individual to complete the remainder and send to UKSTAR).
Download, complete and email all documents to:
Ms. Catina Rossoll
STAR Coordinator
UK College of Pharmacy Graduate Program Office
789 S. Limestone Room 371
Lexington, KY 40536 0596
859-257-­1998
UK.STAR@uky.edu