Segerstrom Lab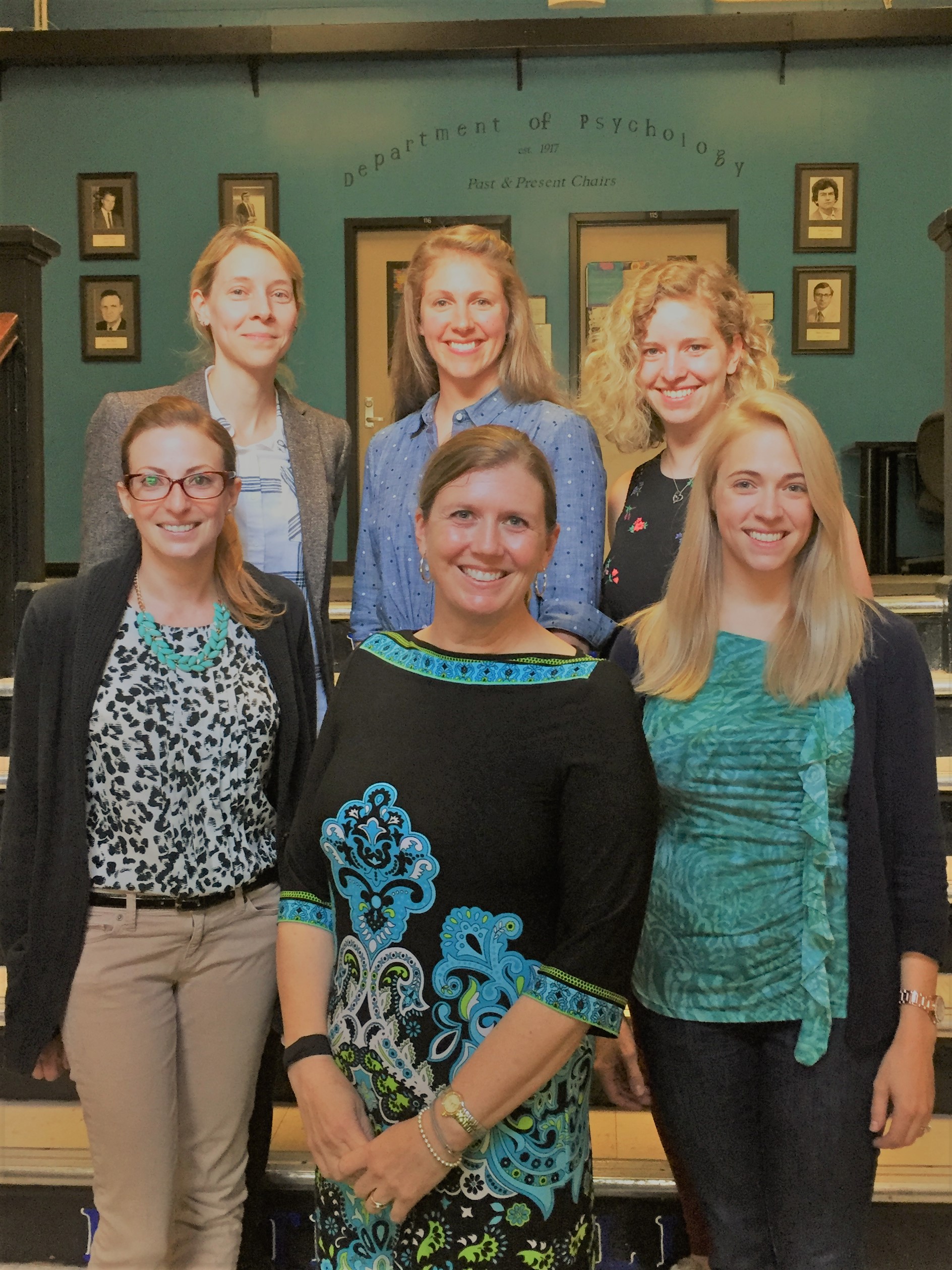 Trainees in the Segerstrom Lab have diverse interests within health psychology, although most are interested in aspects of self-regulation, aging, or both.  From left to right, we are:
Natasha Garcia (5th year PhD student). Dr. Segerstrom and Dr. Berry are my co-mentors. I am interested in cognitive change and psychological well-being in aging populations and individuals with with neurodegenerative disease. Additionally, I have an interest in helping those with chronic illness, neurodegenerative disease, and caregivers cope with distress. My recent research focuses on purpose in life and quality of life in patients with Amyotrophic Lateral Sclerosis and their caregivers. I chose to study at the University of Kentucky based on shared research interests with my mentors, high caliber training with the Clinical Scientist model, secure funding, and diverse clinical training opportunities. Outside of graduate school I enjoy yoga, craft beer, hiking, and canoeing.
Karen Lawrence, PhD (collaborating researcher). I am a collaborating researcher with the Segerstrom Lab and an Assistant Professor in the College of Social Work. My background is interdisciplinary and includes a PhD in neuroscience and an MSW in mental health social work. The goal of my research program is to improve mental health outcomes in traumatized populations and advance understanding of the biopsychosocial factors that contribute to trauma-related pathologies to improve prevention and treatment. With the Segerstrom Lab, I am investigating associations between executive functioning and biomarkers of inflammation during aging in older adults and the relationship between early-life socioeconomic context and the frequency of positive versus negative life events in aging adults, potential mediators, and sex-specific differences. Dr. Segerstrom is mentoring my career development proposal involving a psychoneuroimmunological approach to understanding biopsychosocial factors underlying trauma-related symptomatology in later life.
Rebecca Reed, PhD (postdoctoral fellow). I am a postdoctoral fellow in Dr. Segerstrom's Psychoneuroimmunology Lab and co-mentored by Dr. Charles Lutz in the Departments of Pathology and Laboratory Medicine and Microbiology, Immunology & Molecular Genetics. I completed my PhD in Family Studies and Human Development at the University of Arizona, with an emphasis in quantitative methods. In my research, I investigate what and how dynamic emotional processes contribute to health and well-being in two contexts that may generate stress: close relationships and aging. My University Research Postdoctoral Fellowship award provided me additional training in immunosenescence (aging of the immune system), and biopsychosocial factors that may slow or reverse immunosenescence in older adults. I am now supported by a K99 Pathways to Independence Award to study emotion and immunosenescence.
Elana Gloger (1st year PhD student). I am a recent graduate of Ohio University where I received my B.A. in Psychology and B.S. in Biological Sciences. My experience in neuropsychological research and a class in psychoneuroimmunology led me to Dr. Segerstrom's lab. My research interests involve investigating the mind-brain-body connection, specifically, how differences in the immune and endocrine systems may affect stress, self-regulation, repetitive thought, and women's health in adult populations. In my free time I enjoy cooking, running, local coffee shops, and catching up on my latest TV show obsessions (currently: Game of Thrones and The Handmaid's Tale).
Stephanie Judge (2nd year PhD student). Having accumulated post-baccalaureate research experience in psychology and rheumatology, I came to University of Kentucky to combine my love of both fields by joining Dr. Segerstrom's psychoneuroimmunology lab. My main research interest is exploring the many ways that auto-immune diseases and chronic pain interact with psychological well-being. I am currently looking at how optimism interacts with pain interference and behavioral activation in aging women. I am also interested in studying interactions between the affective, behavioral, and neurobiological correlates of fibromyalgia. In my free time, I enjoy sewing, baking, crocheting, learning new languages, gardening, and reading Jane Austen novels. My husband and I love living in Lexington, and our German Shepherd "Artemis" loves romping in the wide open spaces of the Bluegrass
Lab alumni:
Jay Castaneda, PhD.  Faculty, Georgetown College.
Alyssa Averill, PhD.  Social and Emotional Learning Specialist, Pencils of Promise.
Lise Solberg Nes, PhD.  Faculty, University of Oslo.
Abbey Roach, PhD.  Director of Psychology and Neuropsychology, Frazier Rehabilitation Institute.
Sarah (McQueary) Flynn, PhD.  Faculty, University of the Cumberlands.
Daniel Evans, PhD.  Faculty, University of Washington School of Medicine.
Tory Eisenlohr-Moul, PhD.  Faculty, University of Illinois-Chicago College of Medicine.
Jaime Hardy, PhD.  Private practice, Lexington, KY.
Hannah Combs, PhD. Postdoctoral scholar, Baylor University.
Paul Geiger (Psychology intern, Duke University). My research interests include changes in emotion regulation across the lifespan and resiliency in older adulthood in order to improve and healthcare outcomes and refine patient care pathways for older adults. My dissertation was funded through the National Institute on Aging's National Research Service Award (NRSA). My clinical interests include the treatment of disorder related to emotion dysregulation. I received my undergraduate degree from Duke University and am an avid Duke basketball fan. [NB: We accepted him anyway.]
Ian Boggero (Psychology intern, Lexington VAMC). After completing a BA in Psychology from UCLA, I worked for two years as a research assistant in Dr. Shelley Taylor's lab and subsequently applied to Dr. Segerstrom's lab to pursue my research aspirations. My research focuses on the psychosocial resources that allow older adults to manage pain and fatigue, and the psychological, social, and biological consequences of not being able to appropriately manage pain (see link for access to my publications). My clinical training involves working with chronic orofacial pain, fibromyalgia, and chronic lower back pain populations, among others. When I am not reading or writing about pain, I enjoy spending time with my wife, cooking, traveling, playing soccer/tennis, and hiking.