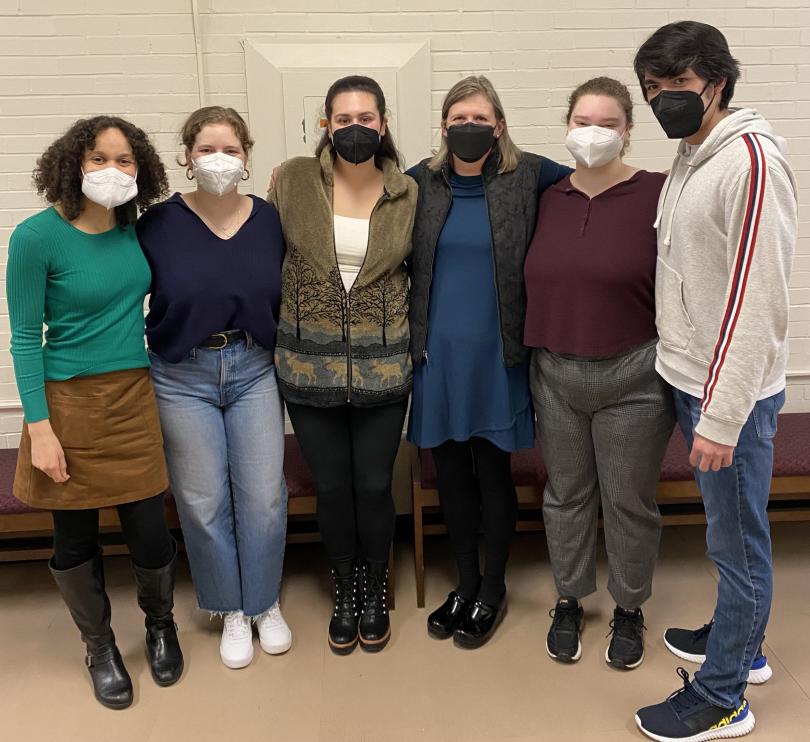 Trainees in the Segerstrom Lab have diverse interests within health psychology, although most are interested in aspects of self-regulation, aging, or both.  From left to right, we are:
Anita Adams (5th year PhD student) During my post-baccalaureate experience, I gained a wide array of research and clinical experience in psychology that cemented my desire to pursue a PhD in clinical psychology. I come from a primarily developmental psychology background from my undergraduate research experience at North Carolina State University, and after graduation, I sought out clinical and research experiences that involved working with older adult, middle adult, and child populations with diagnoses such as dementia, hormonally-impacted depression (specifically, perimenopausal depression), and autism. I was enamored with the University of Kentucky and particularly Dr. Segerstrom's lab due to the potential for high-quality and ample research and clinical experience and training in my preferred area of interest. My research and clinical interests lay at the intersection of aging, health, emotion, and personality traits on the normal and abnormal spectrum. More specifically, I am interested in personality trait and disorder development across the lifespan and specifically how external (e.g., SES, culture) and internal (e.g., emotion regulation/understanding, health) factors impact and potentially alter personality trait and disorder development. In my free time, I am avidly involved in "geek" culture. I enjoy playing video games, watching anime, playing Dungeons & Dragons, and cosplaying (e.g., dressing up in costume as a character from some form of media but most often anime and video games). I also love to video edit, read novels from the Victorian Era, and write fantasy-genre short stories and novels.
Elana Gloger (6th year PhD student). I started in Dr. Segerstrom's lab in Fall 2017 after earning my B.A in Psychology and B.S. in Biological Sciences from Ohio University. I am a graduate student in the Developmental, Social, Health area, and my research interests focus on individual differences that contribute to healthy aging across the lifespan. Specifically, I am interested in the roles that stress, self-regulation, and cognition have on immunological aging and vice versa. In my free time, I enjoy cooking, running, local coffee shops, catching up on my latest TV show obsessions (currently: Survivor, Outlander, and Love Island), and hosting a weekly podcast called 'Dear Grad Student'. The podcast is a place for grad students to celebrate, commiserate, and support each other through grad school (Learn more at: deargradstudent.com). More information about me, current projects, and typical musings of a 5th year graduate student can be found on my twitter account (@elana_gloger), on Google Scholar (https://scholar.google.com/citations?user=bY85HS8AAAAJ&hl=en), or on ResearchGate (https://www.researchgate.net/profile/Elana_Gloger).
Cristina Pinheiro (2nd year PhD student, not yet pictured) Dr. Karr and Dr. Segerstrom are my co-mentors. I began working in Dr. Segerstrom's lab as an undergrad and transitioned to a full-time employee upon graduation. As an employee I had the opportunity to manage the Thoughts, Stress, and Immunity (TSI) Scanning Substudywhich collects biennial MRI scans of the brain for around 80  study participants. This opportunity heightened my interests in the brain-body connection, specifically the involvement of inflammation on the aging brain. I will be completing the neuropsychology concentration in the UK Clinical Psychology Department, and I look forward to learning more about neuropsychological assessments and their validity. Outside of my academic responsibilities, I enjoy camping, hiking, and traveling anywhere with a great view. I've spent over 20 years in Lexington, KY! I love my city, my pets, and my plants.
Dr. Segerstrom
Chelsea Bass (research staff)
Paris Crosby (project coordinator, Thought, Stress, and Immunity Study)
Collaborating researchers (not pictured):
Kate Leger, PhD. I am a collaborating researcher with the Segerstrom Lab and an Assistant Professor in the Department of Psychology. I completed my PhD in Psychology and Social Behavior at the University of California, Irvine. My research examines how people's emotional responses to stress impacts their physical health across the adult life span. I am interested in the effects of emotions that linger after a stressor is over, and I examine the impact of these emotional responses on health behaviors and outcomes such as sleep, disease development, and physiological functioning. I employ a multi-method approach, using naturalistic longitudinal designs and lab-based experimental studies to assess physical health as a life-long process that is influenced by a culmination of emotional experiences to daily events.
Karen Lawrence, PhD. I am a collaborating researcher with the Segerstrom Lab and an Assistant Professor in the College of Social Work. My background is interdisciplinary and includes a PhD in neuroscience and an MSW in mental health social work. The goal of my research program is to improve mental health outcomes in traumatized populations and advance understanding of the biopsychosocial factors that contribute to trauma-related pathologies to improve prevention and treatment. With the Segerstrom Lab, I am investigating associations between executive functioning and biomarkers of inflammation during aging in older adults and the relationship between early-life socioeconomic context and the frequency of positive versus negative life events in aging adults, potential mediators, and sex-specific differences. Dr. Segerstrom is mentoring my career development proposal involving a psychoneuroimmunological approach to understanding biopsychosocial factors underlying trauma-related symptomatology in later life.
Justin Karr, PhD. I am an Assistant Professor of Clinical Neuropsychology in the Department of Psychology at UK. I am a collaborating researcher with the Segerstrom Lab. My research focuses on psychometric methods used in research and clinical practice, outcome following mild traumatic brain injury, and cognitive aging. My psychometric research has focused extensively on the measurement of executive functions and self-regulation. I have developing interest in detecting cognitive decline among high-functioning older adults.
Lab alumni:
Jay Castaneda, PhD.  Faculty, Georgetown College.
Alyssa Simmons, PhD.  Social and Emotional Learning Specialist, Pencils of Promise.
Lise Solberg Nes, PhD.  Faculty, University of Oslo.
Abbey Roach, PhD.  Director of Psychology and Neuropsychology, Frazier Rehabilitation Institute.
Sarah (McQueary) Flynn, PhD.  Faculty, University of the Cumberlands.
Daniel Evans, PhD.  Faculty, University of Washington School of Medicine.
Tory Eisenlohr-Moul, PhD.  Faculty, University of Illinois-Chicago College of Medicine.
Jaime Hardy, PhD.  Private practice, Lexington, KY.
Hannah Combs, PhD. Faculty, Houston Methodist Academic Institute.
Paul Geiger, PhD. Research Scientist, RTI International.
Ian Boggero, PhD. Faculty, University of Kentucky.
Natasha Garcia Willingham, PhD. Postdoctoral fellow, Stanford University.
Rebecca Reed, PhD. Faculty, University of Pittsburgh.
Stephanie Judge, PhD. Postdoctoral fellow, Bluegrass Health Psychology.
Conference presentations:
Paper presentation to the American Psychosomatic Society, 2020 (Segerstrom)
Poster presentation to the American Psychosomatic Society, 2020 (Adams)
Poster presentation to the American Psychosomatic Society, 2020 (Gloger)
Poster presentation to the American Psychosomatic Society, 2020 (Hillmann)
Poster presentation to the American Psychosomatic Society, 2023 (Segerstrom)